Teacher recruitment agencies face fees crackdown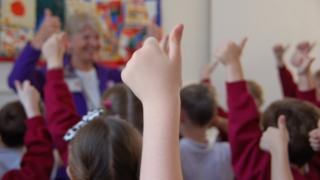 Recruitment agencies that charge schools in England "excessive" fees to find and hire staff face a crackdown by the education secretary.
The move comes amid repeated warnings from school leaders that their budgets are in crisis.
Last month, Damian Hinds promised head teachers he would work with schools to drive down unnecessary costs.
Head teachers' unions welcomed the plan but called for action on underlying budget problems and teacher shortages.
By announcing the clampdown, Mr Hinds is following up on a promise made to the National Association of Head Teachers' conference in Liverpool.
In the speech for week, he pledged to work with heads "to bear down on some of the cost pressures as best as we can" - but did not offer any prospect of extra funding in the short term.
He also promised to make tackling teacher shortages a priority.
The latest announcement aims to curb the fees that agencies can charge to advertise vacancies and recruit supply staff for both short and longer term jobs.
It says: "Some agencies charge schools costly finders' fees if head teachers want to make supply staff permanent and do not set out how much they are charging on top of the basic wages paid to supply staff."
Advertising staff vacancies costs schools in England up to £75m a year, it adds.
The measures include:
a free website to advertise full and part-time teacher vacancies
an official list of agencies that do not charge extra fees if supply staff are made permanent after 12 weeks
agencies on this list must set out the fees they charge on top of supply staff wages
Mr Hinds said the plan would help schools control costs "so they can invest more on their front line".
"Every pound that's spent on excessive agency fees, or on advertising jobs, is a pound that I want to help schools spend on what really matters: making sure every child, whatever their background, is inspired to learn and to reach their potential."
He said it would help head teachers recruit the staff they need and ensure that "teaching continues to be an attractive, rewarding profession".
The NAHT called the approach a step in the right direction.
"Unfortunately their proposals don't go as far as NAHT's call for a cap on the fees that agencies can charge, as there is in the NHS," said head of policy, Valentine Mulholland.
He said too few new teachers were coming through, while experienced staff were leaving prematurely.
"The solution that all schools are crying out for is more money overall and a better deal for teachers, who have seen their workload rise and salaries fall in real terms for nearly a decade."
Geoff Barton, general secretary of the Association of School and College Leaders, said reducing the cost of supply teacher agencies would be welcome.
But he warned that these costs were "driven upwards by the fact that schools have to constantly plug gaps because of the ongoing crisis in teacher recruitment and retention".
"The government must recognise that trimming costs is not enough to address the massive funding shortfall facing schools and colleges.
"It has to invest more in education and in the young people of this country."