Theresa May attacks 'vile' online threats against women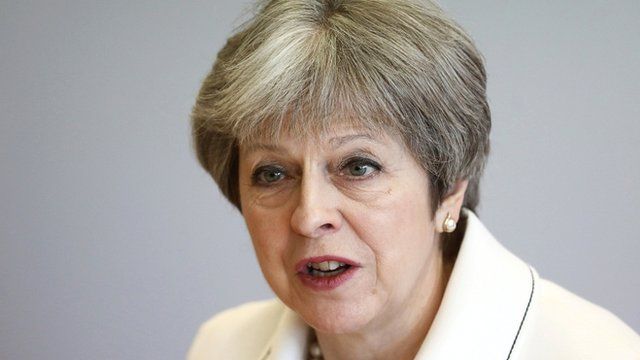 Theresa May is calling on world leaders and social media firms to tackle "vile online harassment" and threats of violence against women and girls.
The prime minister will tell the G7 summit in Canada that women must be able to go online "without fear".
She says if internet firms can block propaganda from terror groups, they should be able to do more to stop the sharing of abuse against women.
Mrs May is demanding "serious action" against a "deeply worrying" problem.
The UK prime minister will highlight the aggressive trolling, cyber-bullying, threats of sexual violence and "vile comments" which can face women on social media - including female MPs and women in public life.
"Online violence against women and girls should not be separated from offline violence," Mrs May will tell leaders of the world's biggest economies on Friday at the gathering in Charlevoix, Canada.
"The technology companies who are making welcome progress in banning and removing extremist content must use the same methods to prioritise tackling this unacceptable and deeply worrying rising trend," says the prime minister.
Mrs May will argue that internet firms have increasingly sophisticated means of identifying and removing unacceptable online content.
Such hi-tech screening should be applied to remove threats against women, depictions of sexual violence or where women are at risk of human trafficking and sexual exploitation, the prime minister will say.
Last year the Committee on Standards in Public Life highlighted the level of abuse and intimidation faced by female MPs when they used social media.
She highlighted a comment where someone had told her: "I want to see your head swinging from Tower Bridge."
Vinous Ali, head of policy for the technology sector body, techUK, said: "Seeking to silence the voice of women in public debate is simply unacceptable and online platforms are working hard to tackle this scourge."
She said that online firms were "improving their reporting systems to make it easier for people to report abuse" so that action could be taken more quickly.
At the G7 summit, the prime minister will also be announcing £187m to support education for 400,000 girls in some of the world's poorest countries.
She will condemn the "devastating waste of potential" of tens of millions of girls, particularly in sub-Saharan Africa, not having access to schools.
The UK's Department for International Development is backing a campaign to help all girls receive at least 12 years of good quality education.
"It is the right thing to do and it is in the global interest. That's why the UK is leading the way in changing views, opening up opportunities for girls and bringing parity to the classroom," the prime minister will tell fellow leaders.