London sixth-former plays Pogba's double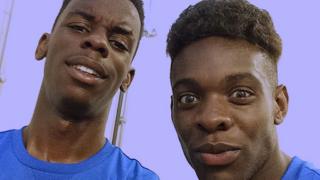 A sixth-former from south London has been used as a body double for France's World Cup star Paul Pogba.
Efeme Temienor had previously been told by his friends and family how much he looked like the footballer.
But the resemblance proved to be unexpectedly valuable, with Efeme being paid to stand in for Pogba in an Adidas advert.
The 17-year-old is going to use his fee to help fund his ambition to go to university.
Efeme, a keen footballer himself, is studying at Christ the King Sixth Form, a Catholic college with several campuses across south London.
'Even my mum said I looked like him'
In an unlikely collision of different worlds, he was hired to go to Manchester and then Madrid to film the advert, where he also met Pogba himself.
He said he had tried not to be "star-struck and overwhelmed".
Efeme was also keen to use the experience and the pay as a stepping stone for his career.
"I knew I needed to make something out of this. I didn't want it to just be a case of 'I've done this,'" he said.
But this chance to take part in the advert nearly did not happen.
He had initially been approached by an advertising agency to play Pogba the year before.
"Even my mum said I looked a lot like him," he said.
But Efeme's father had made him turn down the filming so he could focus on his GCSEs.
With the World Cup looming, the chance came around again and he found himself an unlikely star in his college, when people began seeing the advert.
"Everyone looks at me. I think people hadn't really believed me when I talked about the ad."