Grammar schools: Thousands of new places created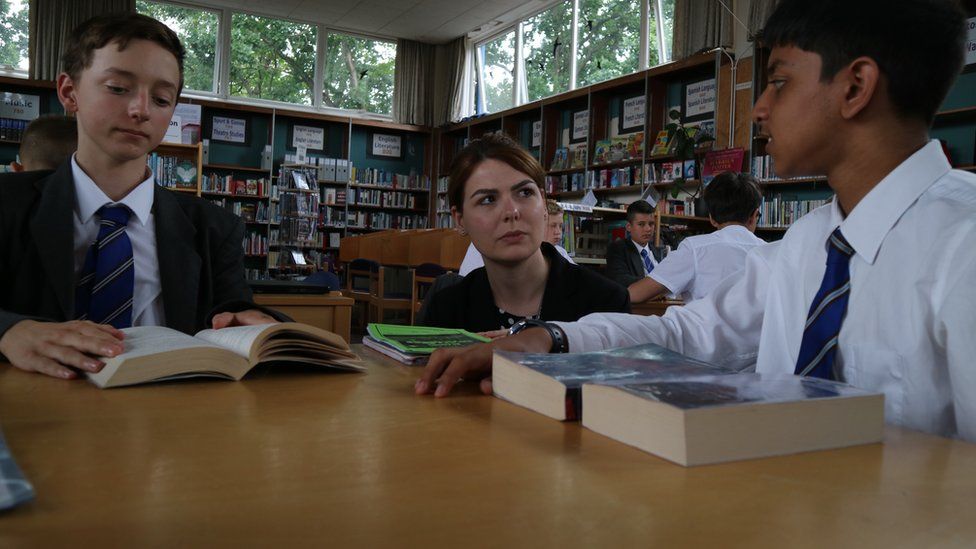 There are 11,000 more grammar school pupils in England now than in 2010, BBC analysis of official data shows.
And by 2021, the data suggests, the number of extra places created will be equivalent to 24 new grammar schools compared to eight years ago.
The government says schools will be eligible for funding only if they improve access for poorer pupils.
Grammar schools are state-funded secondary schools which allocate places to pupils on the basis of their performance in an extra academic test at the end of primary school.
Prime Minister Theresa May had to drop controversial plans to overturn the ban on new schools after the last election, but the expansion of existing grammar schools has been encouraged.
More than 30 existing grammar schools are bidding for some of the first £50m slice of a new £200m government expansion fund.
Schools bidding for the cash will have to show how they intend to admit more disadvantaged pupils.
Using newly-published government data, the BBC has found that grammar schools have been continuing to grow, even before the distribution of those funds.
If schools maintain their intake at current rates, the equivalent of eight extra schools will be added by 2021 compared with this year, and 24 more compared with 2010.
Grammar schools remain controversial because they take a big slice of the children already doing well at school, making it harder for neighbouring schools to get similarly good GCSE results.
Some better-off parents invest heavily in paying for tutoring for the test, and overall very few pupils from poorer backgrounds have attended grammar schools in the past decade.
So a key part of the debate in England about grammar schools has been whether they make an effort to give places to children from families on benefits or low earnings.
If a child has received free school meals in the past six years, the school gets extra money called pupil premium funding.
We looked at the admission policies of all 163 grammar schools in England for the school year 2018-19.
Source: BBC research and Department for Education pupil population data 2016-17
If you can't see the postcode search, tap here
The number not giving any priority to poorer, pupil premium children has fallen from 90 to 61 since the current school year.
Looking ahead to next year, 93 of England's 163 grammar schools have a priority policy of some kind.
A further nine will only use pupil premium status as a tiebreaker to decide between two children with the same test score.
If a school uses results from the top test score down it may never need to use the tiebreaker, and children who have been tutored, or come from better-off homes, may get most of the places.
Prof Anna Vignoles, from Cambridge University, says quotas are a better way of getting more poorer pupils into grammar schools as they set a lower bar for those pupils.
"Tiebreakers are less effective, and the reason is you are still admitting pupils on the basis of their test score and on average, poorer students have lower scores.
"So what you are doing is ranking students on their test score and the richest students will be at the top, and you rarely get to use your tiebreaker."
More than 30 grammar schools are bidding for a share of the first wave of expansion cash.
The government says those schools asking for money need to show how they will make sure more disadvantaged children get places, through measures such as a lower test mark or a quota of places.
A Department for Education spokesperson said: "Any good school - whether it is a comprehensive, academy or selective school - is able to expand if there is a need and a parental demand. By 2020 this government will have created a million new school places, so it's no surprise that grammars, some of the highest performing schools in the country, are part of that.
"The criteria for grants from the Selective School Expansion Fund is clear. If applicants cannot show how they will increase access, they will not be eligible for funding."
Schools willing to ask for some of the money as a loan will also win points that could help their bid.
Heath Monk is the executive director of the King Edward VI group of schools in Birmingham.
"There is a real opportunity to use the fund to leverage more fair access, but that's clouded by the financial considerations.
"The question is whether if you have weaker fair access plans, could those bids get through because of a willingness of the school to borrow more?"
Four of the schools bidding do not have any policy in place for this year or next to give poorer children priority.
These are Chislehurst and Sidcup, Highworth, and Wilmington, all in Kent and Westcliff grammar school in Essex.
Some, like the highly oversubscribed Colchester County High School for Girls, and Tiffin school in Kingston-upon-Thames, only use pupil premium to decide as a tiebreaker.
Others, like Bournemouth grammar school have already made very radical changes to make their admissions policy more inclusive.
Next year, all pupil premium children passing the test will be awarded places first regardless of where they live, followed by other local children from Bournemouth and parts of Christchurch.
"I think we're going back to why grammar schools were established, to serve the most able children no matter what their background," says head teacher Dorian Lewis.
He says changes made already in admissions have more than doubled the proportion of pupils on free school meals from 3% to 7%.
He describes the school buildings as "crumbling" and says they have previously missed out on money to rebuild.
The anti-selection campaign group Comprehensive Future, asked grammar schools how many pupil premium or free school meals children had been given places for the school year starting in September 2017.
It was made as a Freedom of Information request, and the data, seen by the BBC, shows that 564 places were awarded to poorer pupils.
Northern Ireland also has grammar schools but each part of the UK manages its budget and policy for schools separately.
Additional reporting by Christine Jeavans, Wesley Stephenson and Katherine Smith.
Correction 2 August 2018: An earlier version of this story reported that according to data gathered by Comprehensive Future, Colchester County High School for Girls did not admit a single pupil premium or free school meals pupil in the current school year. The school has contacted us to say that 10 such pupils were admitted in the current school year. We have amended the story to reflect this.
The BBC uses the postcode you enter here to determine how close your nearest grammar school is but does not store this data. The BBC is the data controller of the data you enter here. If you have any questions about how we process data, please read our Privacy and Cookies Policy.
The analysis uses data from the schools census published on the Department for Education website. It looks at the change in the number of pupils aged 11-15 in 160 grammar schools in England between 2009-10 academic year and the 2017-18 academic year.
Data excludes three grammar schools that have not taken children from 11-16 for the entire period covered. These are: