Rising numbers pass primary Sats tests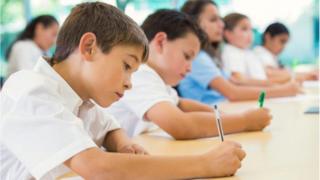 A higher proportion of primary school pupils in England have reached the expected standards in national curriculum tests, often known as Sats, in maths and English.
In reading, 75% reached the expected standard, compared with 71% last year.
In maths, 76% reached the expected standard, up from 75% last year.
Julie McCulloch, of the Association of School and College Leaders, welcomed the "impressive results" but criticised the pressure created by the tests.
Stress worries
The results showed that 64% of pupils met the expected standard across all the tests in reading, writing and mathematics, up from 61% last year.
In writing, 78% reached the expected level, up from 76%. And in grammar, punctuation and spelling, it was 78%, up from 77%.
Ms McCulloch, policy director for the heads' union, said the continuing improvement showed the hard work of pupils and schools, following the introduction of "harder tests" in 2016.
In the first year in which the tougher assessments were introduced only 53% made the grade, which has now risen in two years to 64%.
But Ms McCulloch was concerned by reports of "stress and anxiety" for pupils taking the tests.
The heads' union also warned against giving too much weight to a "single set of results".
The "expected level" for maths and English is based on reaching a scaled score of 100.
This year's average scaled score for reading was 105, slightly up from 104 last year. The average for maths remained the same at 104.
Rising standards
School Standards Minister Nick Gibb said the results reflected rising standards in primary school.
"A good primary education lays the foundations for success at secondary school and beyond," he said.
"That's why we introduced a more rigorous, knowledge-rich primary school curriculum - with an emphasis on reading and fluency in arithmetic - to ensure every child is helped to reach their potential from the moment they start school."
But a campaign group of parents and teachers warned against too much testing in schools.
"At a time when their minds could have been stimulated and their knowledge expanded, their education has been sacrificed to a system which is in thrall to league tables," said Madeleine Holt, of the More Than A Score campaign.