Universities need to talk to parents more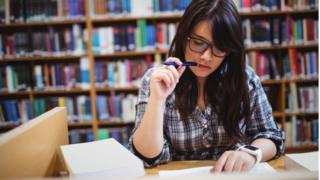 Debt and future job prospects are parents' biggest worries about their children going to university.
That's the conclusion of research published this week by Kings College London.
It calls for top research universities to do more to reach out to parents from poorer communities.
But five of the universities that require top A-level grades to win a place don't engage with parents at all, it says.
All of this matters because universities are under increasing pressure to show what they're doing to encourage more students from communities with little family history of going to university.
The new Office for Students, which regulates universities in England, warned this week that we're still a long way from "equality of opportunity".
This report, by independent researchers at LKMco for Kings College, says parents could hold part of the answer.
A survey carried out for the study found there was little difference between better-off and lower-income parents when it came to worrying about debt or future jobs.
The same was true of the other major concerns - that student loans don't fully cover the living costs of being a student and whether support will be available from university staff.
But in more detailed conversations with small groups of parents, the researchers found more differences emerging.
There were fears about the impact of taking a paying job on the university experience "because if our kids have to have a job to survive, what's the effect of that?"
And worries that students from families less able to support them after leaving university might rush into taking any job, rather than holding out for a better graduate salary.
There has been an increase in students who are the first in their family going to university.
But some universities have done better than others.
The 30 universities in the UK where it's hardest to gain a place were asked what they did to engage with parents.
Twenty-three responded with details of how they are trying to reach parents by having family-based days, or events at schools.
But five universities, which were not named, said they didn't attempt to reach parents specifically.
Amanda Spielman, the chief inspector of schools in England, warned recently of the challenge of raising aspirations in white working class communities.
This report suggests it's in listening and talking to parents about their concerns that universities could make a stronger contribution.