Schools expel 40 pupils each day, data shows
By Hannah Richardson
BBC News education and social affairs reporter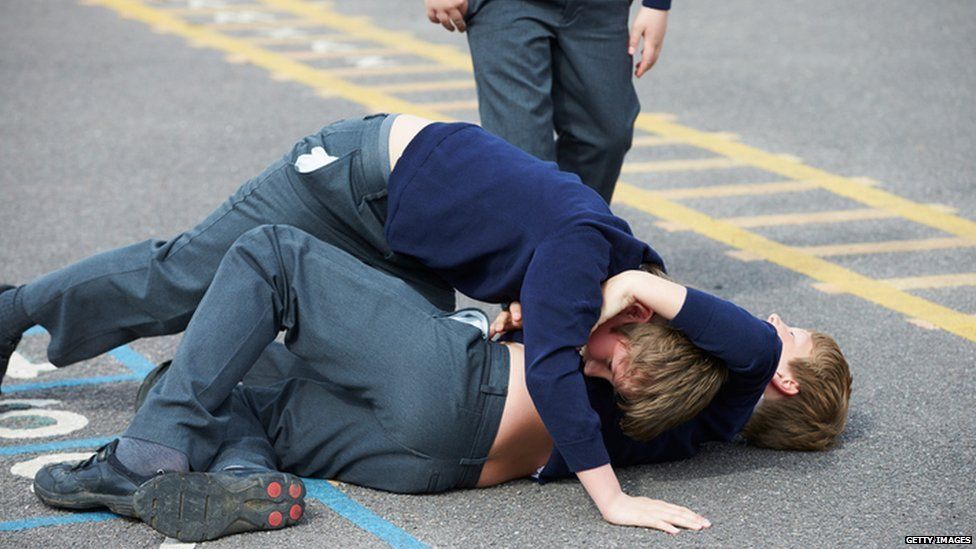 There's been a spike in the number of permanent exclusions from England's schools, with heads blaming cuts to mental health and behaviour programmes.
The expulsion rate is low overall, however, with 0.1% of pupils affected - up from 0.08% the previous year.
The government said schools should only permanently exclude as a last resort.
It added that it supported teachers in taking proportionate and measured steps to ensure good behaviour in schools.
Nonetheless the figures correspond to around 40 pupils being expelled per day.
The very poorest pupils, those on free schools meals, are four times more likely to receive permanent exclusions than other pupils.
And children with a recognised special educational need account for around half of all expulsions.
The figures also show that black Caribbean pupils have an exclusion rate three times higher than the school population as a whole.
The 15% rise in the expulsion rate does not take into account the rise in pupil numbers.
But Geoff Barton, the leader of head teachers union, the Association of School and College Leaders, blamed the school funding crisis and cuts to local children's services for the rise.
"Schools have had to cut back on the individual support they are able to give students, making it more difficult to provide early intervention and prevent behavioural problems from escalating.
"At the same time council support services for vulnerable families have been cut back, meaning that schools are having to pick up the pieces.
"Schools only exclude pupils as a last resort and when all other avenues have been exhausted. The government needs to provide the funding that is necessary to provide support at an early stage," he said.
And Paul Whiteman, general secretary of the National Association of Head Teachers, said: "This is an area where prevention is better than cure but school budgets are at breaking point so many of the measures that schools take to ensure good behaviour and adequate support for pupils are under threat."
The statistics show 83% of permanent exclusions occurred in secondary schools. This is a rate of about 20 pupils per 10,000.
Persistent disruptive behaviour was by far the most common reason for permanent exclusions and the reason and the category with the most growth.
Fixed term exclusions are also up from 339,360 to 381,865 over the same period.
School Standards Minister Nick Gibb said: "We want every child to benefit from a world class education, with the right support in place, so they have the opportunity to fulfil their potential.
"Whilst we know there has been an increase in exclusions there are still fewer than the peak ten years ago.
"We recognise some groups of pupils are more likely to be excluded than others which is why we launched an externally-led review to look at how schools are using exclusions and why certain groups are disproportionately affected.
"We are also transforming alternative provision to improve outcomes for children in non-mainstream education, which is backed by a £4m innovation fund."