Poor mental health 'part and parcel of childhood'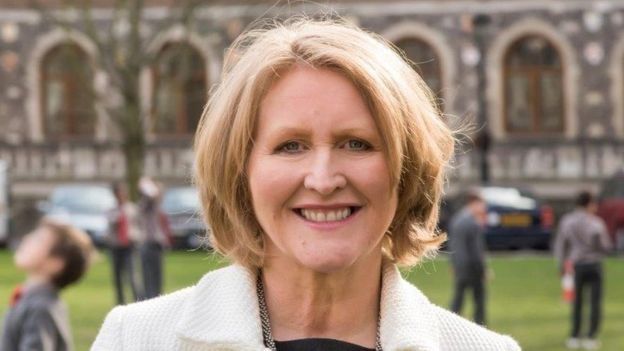 Poor mental health has become "part and parcel" of childhood for many children, England's Children's Commissioner says.
Anne Longfield says there is currently a children's mental health epidemic.
"The fact of the matter is that poor mental health has become part and parcel of childhood for many many children and it affects every aspects of their lives as they grow up, these formative years.
"I think we are seeing a real shift here in children's mental health.
"It affects their achievements in school, their friendships, their self-confidence, their self-belief and ultimately their future. And I think it's happened fast and it's happened at scale."
"And not to bombard you with statistics," she said, "but almost 20% of girls at 14 now have a diagnosed mental health condition. A quarter of teenage girls are diagnosed with depression.
"We can come back to many of these. ChildLine reports that they have 60 counselling cases with children who are worried about suicide, each week.
"This isn't something which is a small blip here and there. This is something which so many parents around the country know because it's happening to their children or children in the country.
"And the fact of the matter is that we haven't got the help in place to support those children and there's a long way to go to not only catch up, but to get ahead."
'Unattainable lifestyles'
Ms Longfield said young people today were exposed to a lot of pressures.
"We know that children are bombarded with these unattainable lifestyles that they see from celebrities and online alike and they just can't compete. It's as if there's been a narrowing down of what success looks like.
"You have to look good, you have to be successful, it has to come quick. And then of course we've got the digital world which has come over the last ten years, not I believe, causing these things, but fuelling these things.
"So everything is fast, there's no downtime. Appearances are all. Academic achievement is important of course, but has become a major major focus in schools and that makes it very difficult for children to find their way through.
"I'm not seeking to medicalise childhood here at all, but I think children are experiencing a much more complicated existence than many of us adults did, and that we need to help them through that whole experience.
"Chillingly, from the first week in post, children have come to me and said: 'I feel like I'm being passed from pillar to post, I've talked to people to try and get help and I can't get it'.
"And the awful thing they've said to me is feeling suicidal isn't enough, you have to have tried to take your own life. And how can that be possible in the age we're at?"
Related Internet Links
The BBC is not responsible for the content of external sites.