Government bodies 'worst for aggressive debt collection'
By Hannah Richardson
BBC News education and social affairs reporter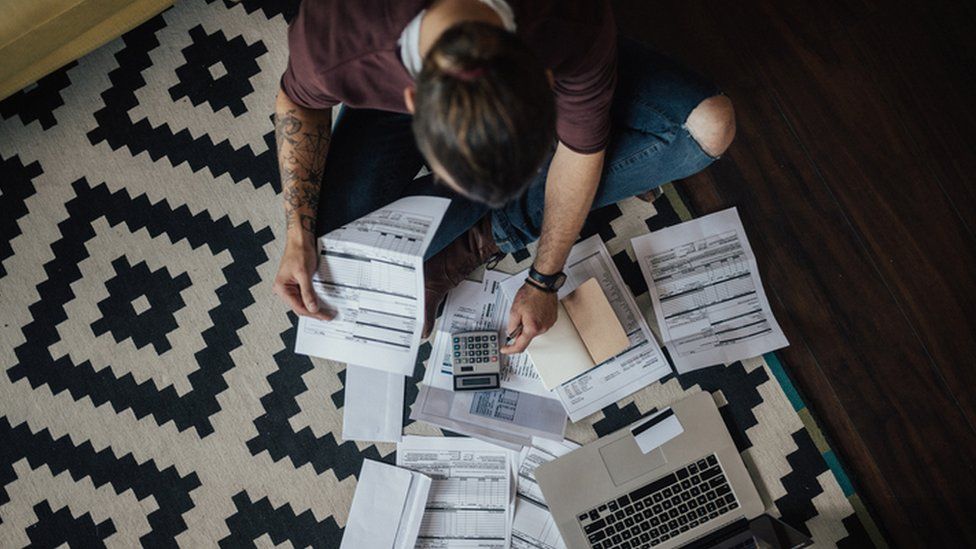 Local councils and government bodies may not usually be associated with sending round "the heavies" to collect debts from hard-pressed families.
But they are often worse than consumer creditors, can be very aggressive and quick to use bailiffs, MPs say.
The Treasury Select Committee says debts and overpayments are often pursued "over-zealously and uncompromisingly" by councils.
It calls for public sector bodies to change the way they recoup debts.
The current approach risks driving vulnerable, struggling people into further difficulty, the committee says.
In its report "Household finances: income, savings and debt", MPs single out public bodies for being behind the curve in their collection methods.
It quotes evidence from Citizens Advice head of policy, Matt Upton.
"This is a point people find slightly difficult to grasp," he says.
"When people first hear that government collection and local authority collection is effectively worst in class, versus consumer creditors, it is quite difficult to accept emotionally.
"Government must be better than some of these rapacious firms that we hear about.
"If you talk to banks, it is because lots of organisations have realised that incredibly aggressive collection methods are not effective at getting money in the door, because people do not respond well to some of those tactics."
The Financial Conduct Authority told the committee that about a fifth of debt clients were arriving with problems paying council tax and utility bills.
And Step Change, the debt charity, said it was now seeing average council tax debts of above £1,000 for about a third of its clients.
Mr Upton, acknowledging some bailiffs could be heavy-handed. told the BBC: "We've seen cases where people have been marched to ATMs to make payments."
He added that people can get into a relatively small amount of debt which can quickly spiral once debt collectors take over and add on fees and charges.
"I want to die. They have made me feel so ill and scared. I cannot go outside the house and I keep my windows closed even when it's hot."
This was how an anonymous debtor from Dorset said she felt after being chased for a debt by bailiffs.
In another post on Taking Control, a web campaign against heavy-handed debt collection, someone from Westminster says: "After one missed instalment on a liability order payment plan for council tax, because of ill-health, an enforcement agent left an enforcement notice while I was out.
"When I contacted him, he was gruff, dismissive and rude, referring to me repeatedly as 'darling', despite me asking him not to do so, cutting me off and being quite intimidating, threatening 'we're coming round the house'."
The treatment of a 68-year-old vulnerable widowed lady by bailiffs seeking council tax arrears was described by a debt adviser.
"The arrears appear to relate to 2013.
"The client's son has tried to get further details from the council in order to dispute the debt but so far this has not been forthcoming.
"The enforcement agents have been rude, intimidating and threatening on the phone to the client's son and have bullied him into setting up a regular payment of £20 on behalf of his mother."
It's hardly surprising there are calls for the public sector - that is local authorities, Department for Work and Pensions and HMRC - to sign up and commit to better, more sensitive practices.
As the committee says: "The public sector should be leading by example in their treatment of the most vulnerable."
Step Change chief executive Phil Andrew said he agreed that non-credit arrears should be included in the breathing space scheme which, if it goes ahead, could give people in problem debt a break while they sort out their finances.
Gillian Guy, chief executive of Citizens Advice, said: "MPs are right to acknowledge that government agencies and local authorities are worst in class for debt collection, when they should be leading by example.
"Reforms in 2014 were introduced to protect people from unfair practices, with a particular focus on how bailiffs collect debt.
"It is clear these changes have failed. Citizens Advice has seen a more than 25% rise in bailiff problems since 2014 and helped 42,000 people with 98,000 issues last year.
"We need an independent regulator to protect consumers from unfair practice."
An HM Treasury spokesperson said: "Government and local authorities have a duty to collect taxpayer's money that is owed to them.
"But we know that not everyone's circumstances are the same, which is why people can get help to pay their debt in affordable instalments, reduce their payments, or take breaks entirely.
"There is always more we can do.
"That's why we set up the Fairness Group, a body of government and industry leaders, who are working to improve how debt is collected to make it fairer for everyone."