Could Love Island hold the key to lasting happiness?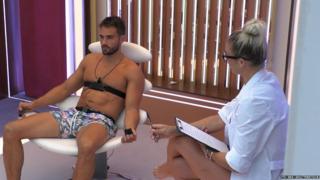 In an age where swipe right means like, a divorce lawyer to the stars says couples should ask 10 'critical' questions before embarking on a relationship.
Baroness Shackleton, who represented Sir Paul McCartney among others, and University of Exeter academics have collaborated on a study, which looks at the key questions potential lovers should ask one another before embarking on a serious relationship.
According to the survey, which took evidence from long-term couples, family lawyers and mediators, relationships last longer when built on friendship, respect, shared interests and realistic expectations.
The survey comes as reality TV show Love Island has become ITV2's most watched show.
Viewers have become obsessed with how compatible the couples are, the sincerity of the relationships formed, and which duos are likely to go the distance - after the cameras stop rolling.
Antics on Love Island have ruffled the feathers of many, with some arguing it gives bad relationship advice to impressionable audiences - showing men and women quick to swap and change their partners when they believe someone else better fits the script.
The dynamics on the show change from day to day as challenges are set for the "islanders", testing their compatibility and knowledge of each other.
'He's not my type'
The lie detector test challenge, which asks uncomfortable questions which can make or break the relationship, is a popular example of this.
Maybe the show, now in its last week, is on to something?
Baroness Shackleton says asking the right questions early on can save a lot of time and heartache.
Shackleton, who has been a divorce lawyer for more than 40 years, says: "More than 50% of the people consulting me about divorce have said they realised either before or very soon into their marriages, that they were fundamentally incompatible with their partners."
That's arguably not the best time to come to that realisation.
The lawyer also argues that the best long-term relationships, take place when two people have realistic ideas about what constitutes a happy relationship, shaped by marriages they have seen through their parents or other family members.
Researchers interviewed 43 couples who have been married for 10 years, or who had separated during this period, and 10 other couples in same-sex and opposite-sex relationships, who had been living together at least 15 years.
They found that it was important for couples to continually ask themselves the following 10 critical questions in order to build the relationship.
'Good friends make the best lovers'
Are we a 'good fit'? According to the survey, many of the thriving couples had started as "friends" first, with an intimate relationship developing slowly. So researchers, including Jan Ewing of Exeter's Law School, believe couples should question if they are a "good fit" based on friendship first and foremost.
Do we have a strong basis of friendship? Experts say that an underlying friendship had helped couples through harrowing life events such as bereavement or an affair. The survey also found that separated couples often lacked a firm foundation of friendship.
Do we want the same things? According to the report, the loved up duos had aligned values, hopes, dreams and expectations of the other partner, and of the relationship.
Are our expectations realistic? Whilst analysing both samples, scholars found that the successful couples had realistic expectations of marriage and relationships. They knew it wouldn't be plain-sailing and were prepared to seek professional help, as well as work hard on the partnership.
Do we generally see the best in each other? These experts think compassion is key and say although compassionate love can take time to build, when it happens - these couples tend to see the best in each other and make allowances when necessary.
Do we both work at keeping our relationship vibrant? Couples in thriving relationships showed they cared for each other in daily rituals and small regular acts of thoughtfulness that communicated appreciation in ways that were meaningful to their partner.
Do we feel we can discuss things and raise issues with each other? Carving out time to talk about your day, or deeper level issues is necessary for a prosperous relationship, as open communication fuels intimacy.
Are we both committed to working through hard times? Couples' ability to adapt to change is essential to thriving relationships. When couples pulled together during periods of adversity, they often report a strengthening of the relationship as a result.
Would we pull together to get through stressful times? Researchers found that how people cope with life pressures such as bereavement, an affair, financial difficulties or becoming a parent, particularly when the couple had different parenting styles, is key and requires good relationship skills.
Do we each have supportive people around us? We all want our family and friends to like the person we have chosen to be committed to. The scholars found that close; supportive networks of family and friends enriched the lives of couples across the spectrum of family forms. Women, in particular, drew substantial support from their mothers, sisters and/or friends.
So, is there hope for you?