From cake shop to civil servant - without A-levels
By Judith Burns
Education reporter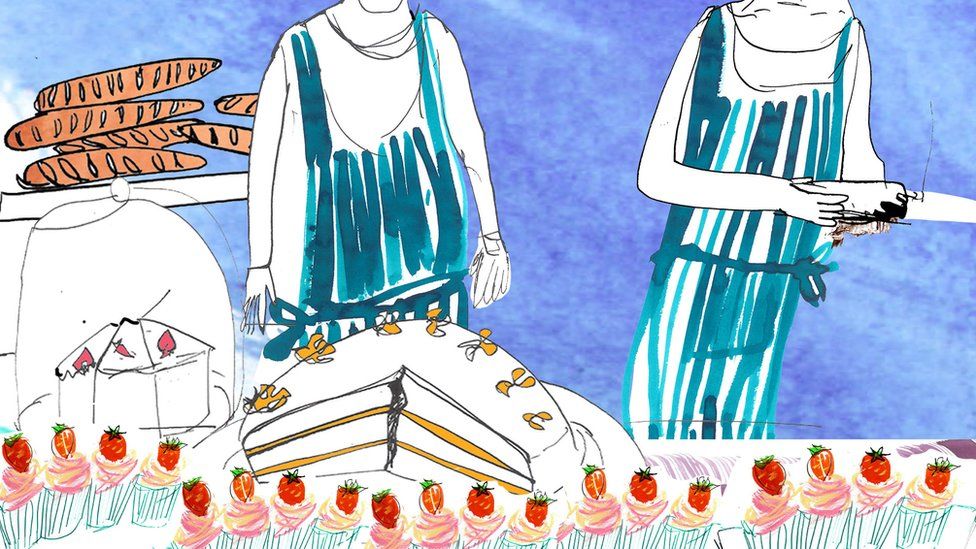 So what do you do after your GCSEs? Stay in education is the answer for the overwhelming majority of teens. Claire Hughes, now 22, is one of the few who bucked the trend and went out to work.
In 2012, at 16, with a string of good GCSEs, Claire did two unusual things.
First, she decided it was time to move out of the family home and live independently.
Although she now gets on well with her parents, at the time she felt that she "needed to try being on my own for a while".
And second, she dropped out of her A-levels.
Education just did not feel important and these days she struggles even to remember what subjects she took.
These days 90% of 16-year-olds remain in education after GCSEs, according to the latest figures from the Department for Education, and even in 2012 the figure wasn't much lower.
Claire moved into a little house with a friend on the other side of Sheffield, her home city, hoping that part-time work would sustain them.
But they were quickly overwhelmed by the cost of everything.
"Like the cost of cheese, funny things that you don't really think about," she recalls.
Soon Claire had left school and was working full time as an assistant in a cupcake shop: "I really did enjoy it."
However, the business failed and she had to do three part-time jobs, but still struggled to make ends meet.
Claire says the stress got to her, harming her self-esteem and mental health.
"It got to a point after about a year when I thought this wasn't really going anywhere."
Her parents were supportive but "a lot of people thought I had messed up".
She says: "My friends who had gone off to Russell Group universities, I know they thought 'what the hell are you doing?'."
Claire received support from the charity Young Women's Trust, who gave her coaching to boost her confidence, skills and employability.
In January 2014, she started an apprenticeship in business administration in the constituency office of one of Sheffield's MPs.
She was there for 18 months, first as an apprentice and later as a secretary.
"It absolutely changed my life," she says.
"It opened so many doors for me. I'm really grateful for it."
Her job was to handle "everything that came into the office communication-wise, so the inbox, the phones, the post".
"So I could be speaking to an MP on the phone one minute and then a really distressed constituent...
"You know, it was really, really good, loads and loads of skills, organisational, people skills and communication which were really, really valuable to me...
After 18 months Claire applied for the Civil Service higher level Fast Track Apprenticeship scheme.
Since she started three years ago, she has been promoted twice and earns a good salary.
Claire says the job has massively boosted her confidence and kick-started her career.
"It does sound silly but being paid what I was just made me feel valuable, as if I was making a valuable contribution, and then getting the good feedback and being nurtured by some really good managers just meant that I kind of excelled in my career really.
"It gave me a bit of focus and passion and I know that's what I want to do with my career now.
"I absolutely want to stay in the public sector, in the civil service."
At the age of 22, Claire has a mortgage on her own home, a career she loves and "absolutely no regrets".
"I'm at the grade in the civil service now, one grade higher than graduates come in at.
"I suppose what I'm trying to say is that I am at the same place in the civil service that I would be if I had come in through the graduate scheme and I've managed to do it more quickly."
She admits that the months immediately after she left school were tough and stressful, with poor career prospects.
But the experience helped her realise that: "Although I loved cake I didn't have a passion for it.
"I knew I didn't want to work in that kind of business."
Equally, she says that A-levels and a degree wouldn't have been right for her either.
"I've always had the mentality that you can work your way up in an organisation...
"And really the civil service is absolutely a place where you don't have to have gone to university to do well.
"I just think it's a really good place to work. It's public sector which I really like and helping other people. So really, really good."