England's schools face 'severe' teacher shortage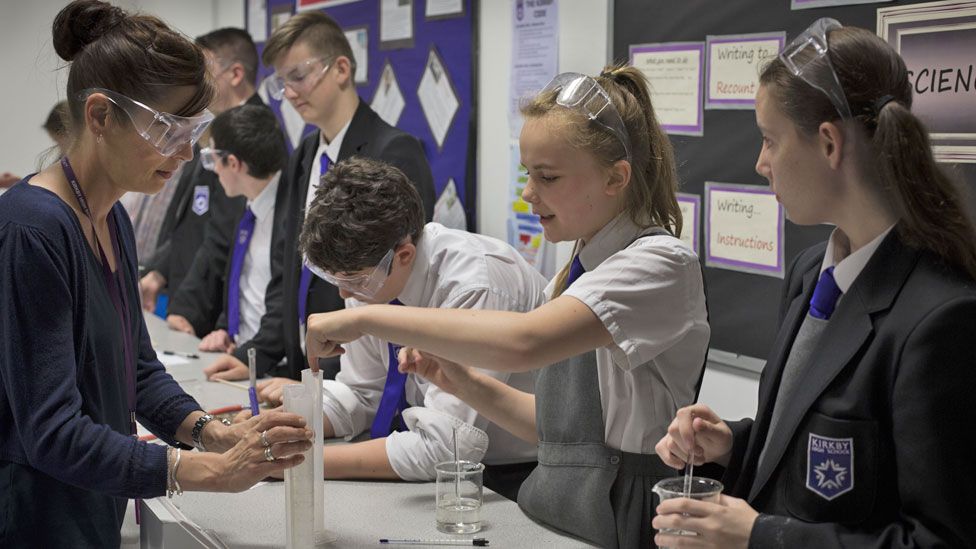 England's schools are facing a "severe shortage" of teachers, with bigger class sizes and more subjects taught by staff without a relevant degree, says the Education Policy Institute (EPI).
The independent think tank says that as schools prepare to return after the summer break, the problems of teacher recruitment remain unresolved.
The think tank says targeted pay increases could reduce shortages.
Education Secretary Damian Hinds has made staff recruitment a top priority.
Former education minister, David Laws, now chairman of the EPI, says the "government faces a significant challenge to recruit enough teachers - particularly in subjects such as maths and sciences".
"It must already be a concern that as little as half of GCSE maths teachers have a maths or sciences degree.
"Of particular concern is the unequal access to subject-qualified teachers for more disadvantaged schools outside London," said Mr Laws.
A report from the think tank warns that a lack of staff has already meant a worsening teacher-pupil ratio, rising from 15.5 pupils per teacher in 2010 to 17 in 2018.
There are particular problems for getting specialist teachers for maths and science, which the study says reflects the difficulty in recruiting graduates who could get better paid jobs in other careers.
The report highlights the wealth gap in access to well-qualified staff, particularly outside the capital.
In poorer areas outside London, 17% of physics teachers have a relevant degree - compared with 52% in affluent areas in the rest of the country.
There are particular geographical cold spots, where schools are rated as least likely to have teachers in shortage subjects with a relevant degree:
Portsmouth
Hampshire
Newham
Barnsley
Doncaster
London and the south-east of England, and Bath, north-east Somerset, Rochdale and Darlington are among the areas with the highest levels of teachers with a degree in their specialist subject.
Recruitment targets for teaching have been missed for five successive years - and the report calls for cash incentives to make teaching more attractive.
It calls for "salary supplements" in subjects with shortages and says extra pay should be considered for areas which are "hard to staff".
Report author Luke Sibieta said: "There is strong evidence that these pressures can be alleviated by targeted salary supplements.
"Policy-makers have begun to consider this potential solution, yet so far proposals have been far too modest, and exclude many of the areas most in need.
"The government should therefore roll out a more ambitious scheme which offers incentives to teachers in a greater number of shortage subjects, covering more areas."
But Geoff Barton, leader of the ASCL head teachers' union, rejected the call for higher pay in some shortage subjects, saying "it would mean other teachers were paid less than their colleagues, despite having similarly demanding workloads".
Nansi Ellis, of the National Education Union, warned against "sticking plaster" responses and also rejected targeted pay incentives.
She said that recruitment and retention were being damaged by the "workload in schools and the punishing pressures of accountability".
John Blake of Now Teach, which encourages career changers to enter teaching, says "some of this shortfall can be addressed through tapping into the many experienced professionals who are looking to embark on a career in teaching".
He said there were thousands of people over the age of 40 who could bring "detailed knowledge of the subject matter" as well as "many years of professional experience".
Labour's shadow education secretary, Angela Rayner, said the government had to take the blame for the lack of teachers.
"Slashing" teachers' pay meant that "fewer people are training to join the profession, and teachers are leaving our schools in record numbers", she said.
Earlier this year, Education Secretary Damian Hinds told school leaders that tackling recruitment problems was a priority.
The increase in teachers' pay - of up to 3.5% - received a mixed welcome. It was the biggest rise of recent years, but the Institute for Fiscal studies showed that 60% of staff would be getting below inflation pay settlements.
"The education secretary has been clear that there are no great schools without great teachers and his top priority is to make sure teaching remains an attractive and fulfilling profession," said a Department for Education spokeswoman.
"There are still more than 450,000 teachers in our classrooms - 11,900 more than in 2010 - and increasing numbers are returning to the profession.
"We recently announced a fully-funded pay rise for classroom teachers and we are working with school leaders and unions on a strategy to drive recruitment and boost retention of teachers and strip away unnecessary workload."