UK 'missing out' on overseas students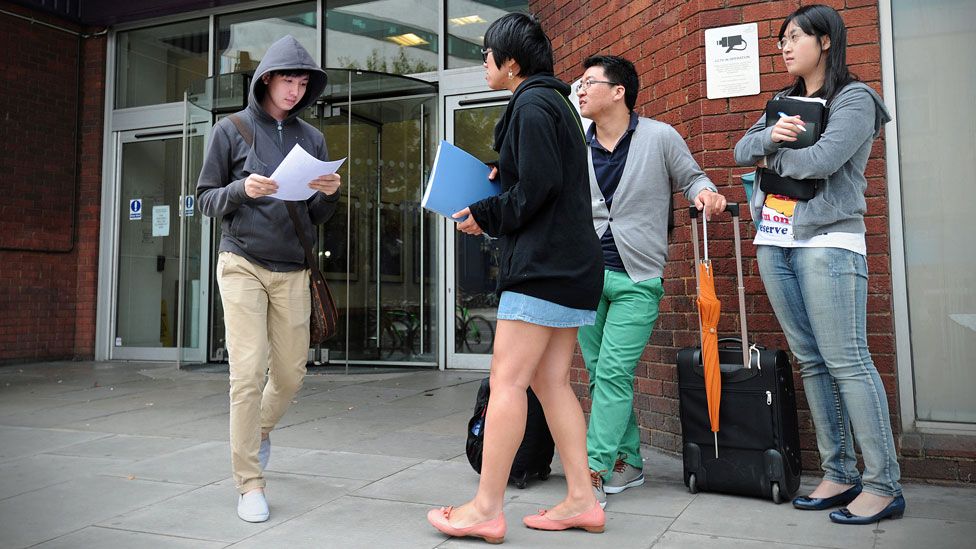 University leaders are calling for changes to the UK visa system to allow international students to stay and work for two years after they graduate.
Universities UK says otherwise overseas students, worth £26bn to the UK economy, will opt for countries such as the US, Canada and Australia.
The government has said there is no cap on legitimate overseas student numbers.
This month, the Migration Advisory Committee, which gives the government independent advice on immigration, is to report on the impact of international students - currently counted as those from outside the UK and the European Union.
The government has previously rejected calls to take international students out of migration targets.
The university group is arguing for a more "welcoming" message, by giving international students the right to stay and work in the UK when they complete their courses - as they could before the rules were changed in 2012.
The US, Australia and Canada allow international students to work after graduation - and Universities UK says that their research in countries such as India has shown this to be an important attraction.
It is possible for students to stay after graduating in the UK. But there are thresholds on how much graduates must be earning, time limits for moving into work and requirements for sponsorship - and the universities want a less restricted approach.
Prof Sir Steve Smith, of Universities UK, said the UK was "missing out" on the global growth in overseas students.
The UK removed the right to work after claims that overseas students were over-staying and using student visas as a back-door route for migration.
But Sir Steve said such claims had proved to be "factually incorrect" and the latest data showed that 98% of overseas students complied with their visa requirements.
As well as the financial loss from deterring overseas students, he said, there was a risk of "extraordinary long-term damage" in terms of losing international influence and failing to recruit international talent for UK research.
After Brexit, Sir Steve said there would be even greater demand for skilled workers and the UK needed to show it was "open for business".
Overall international student numbers to the UK have increased by only 3% in the past decade - while the US has increased by 40%, Australia by 45% and Canada 57%.
A study from University College London in July showed that the UK's longstanding position as the second biggest recruiter, behind the US, was being lost to Australia.
China is the biggest source of international students for the UK, with about 95,000 students. There are about 17,000 students from India - but Universities UK says this number has halved over the past five years.
Universities UK says the spending of overseas students supports more than 200,000 jobs - with an economic impact, across fees, travel and living costs worth £25.8bn, including £1bn in tax revenues.
Tim Bradshaw, chief executive of the Russell Group of universities, said that almost a third of their students were from overseas.
"We support the call to give more international graduates the opportunity to work in the UK for a set period, once they finish their studies. This move would help preserve the UK's status as a magnet for global talent," said Mr Bradshaw.
A Home Office spokeswoman said: "There is no limit on the number of genuine international students who can come to study in the UK.
"We recognise the cultural and financial contribution which international students make to the UK, which is why we have developed an excellent post-study offer.
"Graduates can stay if they get a graduate level job, get an internship or apply to set up a business in the UK.
"Completing PhD students are also able to stay for an additional year to gain work experience or set up as an entrepreneur."