Families 'can't afford to follow healthy diet guidance'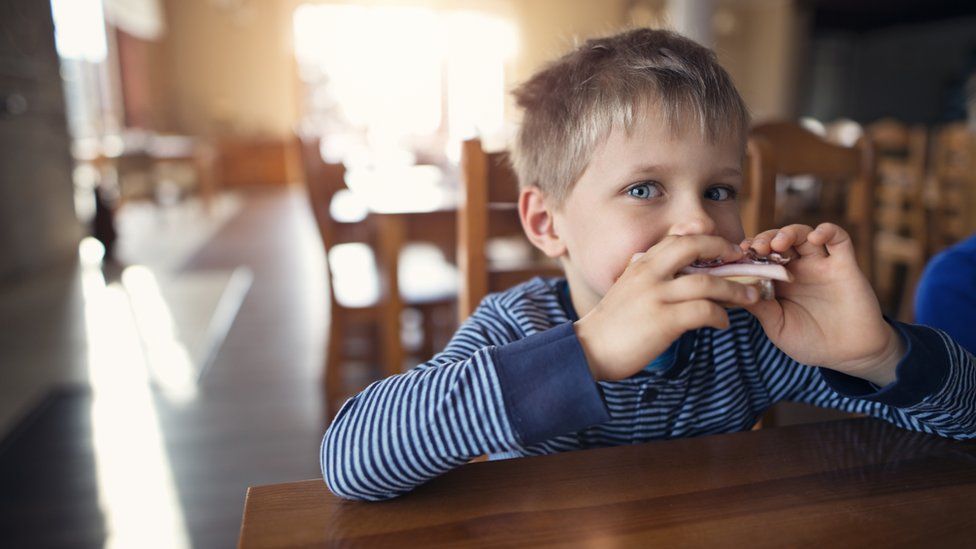 Up to 3.7 million UK children live in homes struggling to afford enough meat, fruit and vegetables to meet healthy eating advice, research suggests.
The Food Foundation says the poorest fifth of homes with children would have to spend 42% of their disposable income (after housing costs) to meet guidance set out in the Eatwell Guide.
The guide, from Public Health England, aims to help people get a balance of "healthier and more sustainable food" and is estimated to cost £5.99 a day per adult or £41.93 a week.
The guide sets out how much of what individuals eat should come from five food groups:
fruit and vegetables
carbohydrates
proteins
dairy
oils and spreads
The Food Foundation's research indicates that, on average, the poorest half of UK households would need to spend close to 30% of their disposable income to meet these official dietary recommendations.
The richest half would need to spend about 12% of disposable income to do the same, it suggests.
It also indicates households, with children, in the bottom two income categories - with an income of less than £15,860 a year - would need to spend 42% of their after-housing disposable income to afford the foods set out in the guide.
"There are 3.7 million children in the UK living in households that fall in the bottom two deciles," the report says.
The foundation also disputes the official estimated cost - £41.93 a week - of following the guide, saying it would probably cost more in practice.
Its report says: "This cost was calculated on a per portion basis (eg cost of a single portion of bread), rather than how much a person would need to spend to buy the foods in question (eg a loaf of bread), and therefore it is likely to underestimate how much a person would need spend to buy a full weekly diet based on the Eatwell Guide."
'Not how I would like them to eat'
Elaine, a mother of four from Kent, struggles to balance the weekly budget.
She estimates she has between £50 and £60 per week to spend on food and often finds that its the least healthy options that are available within this budget.
"I really try and my kids eat well - but what we are eating is not how I would really like them to eat," says Elaine.
"I would never let my children go without - but I do go without. I have no social life unless it is something free - can't afford to go out for a coffee."
Anna Taylor, executive director of the Food Foundation, said: "The government's measurement of household income highlights the fact that millions of families in the UK cannot afford to eat in line with the government's own dietary guidance.
"It's crucial that a coordinated cross-government effort develops policy that accounts for the cost of its recommended diet and creates a food system that does not consign those on lower incomes to the risk of diet-related illness."
But Dr Alison Tedstone, chief nutritionist at Public Health England, said: "This report suggests a healthy balanced diet in line with the Eatwell Guide costs around £6 per day for an adult - we are currently spending about the same amount eating poorly.
"Our food choices are affected by other factors such as the volume of fast food outlets on our streets and promotions of unhealthy foods in our shops, highlighting why our work to improve the nation's diet is so important."
The Food Foundation is calling for government policy to ensure that low income households can afford to follow government's own recommendations for a healthy diet.
The research says: "Ensuring this affordability could be achieved through two overarching two approaches: increasing the resources and incomes of low income households and ensuring that healthy foods are available and affordable to those on a low income."