Chief Rabbi publishes first LGBT guide for orthodox schools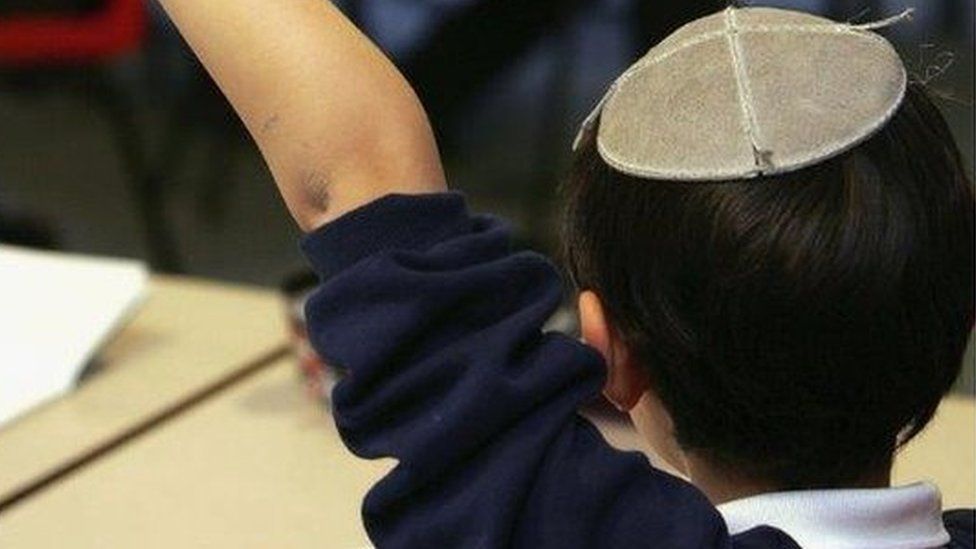 The UK's Chief Rabbi, Ephraim Mirvis, has published the first ever guide for orthodox Jewish schools to improve the wellbeing of lesbian, gay, bisexual and transgender pupils.
A spokesman for the Chief Rabbi told the BBC that the guide is viewed as a "game-changer".
Jewish LGBT campaign group, KeshetUK, which helped produce the guide, said it was deeply grateful for the support.
The guide aims to reduce potential harm to LGBT pupils across the community.
Rabbi Mirvis says the document is "an extremely significant milestone" which would have a real and lasting impact.
"Our children need to know that at school, at home and in the community, they will be loved and protected regardless of their sexuality or gender identity," he said in his introduction.
He said orthodox schools had found it difficult to engage with LGBT issues: "So there is an urgent need for authoritative guidance which recognises the reality that there are young lesbian, gay, bisexual and transgender students in our schools to whom we have a duty of care.
"While many such students are thriving in Jewish schools, there are many others who endure deep unhappiness and distress due to the mistreatment and hurt they experience."
As a girl, Shulli says the curriculum at her school was fitted around guiding her through the life stages of reaching womanhood.
"Had I been straight, this process would have been a huge advantage... however, because I was not straight the result was a feeling of total isolation.
"I had no path to follow and no guidance. I could not envision my own future.
"I thought that by fitting in and acting straight, then I would eventually become straight.
"I knew I had to mention boy crushes, I had to get rid of my swaggering walk, I frequently had to use homophobic slurs."
Shulli believes that the detrimental impact remains with her today.
After she left school, she met one of her old teachers at a Jewish event and came out to her.
As I told her who I really was, I could feel my cheeks flush, and noticed that I was visibly shaking, yet her reaction was fantastic.
"She told me that she didn't see me any differently, that she was proud to have taught a student who had such courage, and she implored me to always be true to myself as that is what leads to happiness.
"Whilst her heart-warming reaction is exactly what I needed in order to feel a sense of inner peace, the sad thing is that the atmosphere in the school meant I could never have approached her to receive the support that I needed."
The authors hope that the fact the guide is produced by the recognised leader of the Orthodox Jewish community will give it particular weight in schools.
Rabbi Mirvis says they are of course aware of the prohibitions in Jewish law and the Bible, for example, in the book of Leviticus.
But he adds that when homophobic, biphobic and transphobic bullying is carried out with "justifications" from Jewish texts a "major desecration of God's name" is caused.
And he says that the most important part of Jewish law, also set out in Leviticus, is to "love your neighbour as yourself".
The guide recognises the extent to which young Jewish LGBT people "often express feelings of deep isolation and loneliness and a sense that they can never be themselves".
Many fear that they could be expelled, ridiculed and even rejected by family and friends.
zero tolerance of bullying
better protection of LGBT pupils against bullying and abuse
avoiding homophobic words and language
recognising the issues and experiences of LGBT pupils
avoiding labels and allowing pupils to determine their own sexuality
better support when pupils first come out
KeshetUK's executive director Dalia Fleming said the organisation was proud to have worked closely with the Chief Rabbi and Jewish LGBT people on the guide.
"KeshetUK now looks forward to working with schools, rabbis and educators across Jewish communities, supporting them to implement this guide so they can ensure their LGBT students reach their potential, free from homophobic, biphobic and transphobic bullying, discrimination and fear."