University bosses call for ban on essay-writing companies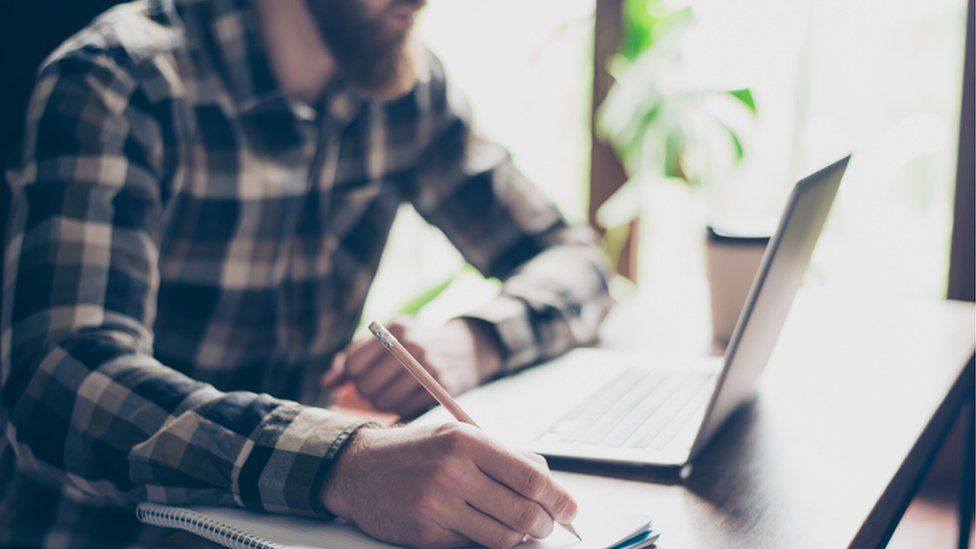 More than 40 university bosses have written to the education secretary calling for so-called essay mill companies to be banned.
Some students pay for bespoke, original assignments - which cannot easily be detected by anti-plagiarism software.
But the letter says these essay-writing services should be targeted rather than those who pay for their services.
Such services undermine the integrity of higher education and are unfair to honest, diligent students, they say.
Universities minister Sam Gyimah said the government was working to "bear down" on the problem - and added that "legislative options are not off the table".
What is contract cheating?
Passing off a custom-made essay as your own is a form of plagiarism known as contract cheating
It involves a student ordering an essay, usually through a website, for a fee
But it could also be friends or family members writing an essay on a student's behalf
Companies offering these sort of services are known as essay mills
The fee will usually depend on the essay subject, length and deadline
The letter has been signed by 46 vice-chancellors and heads of higher education bodies, some of whom represent the UK's largest and most prestigious universities.
Students caught submitting work that is not their own face serious penalties, which can include being thrown off their university course.
However, in the UK it is not illegal to offer a commercial essay-writing service.
And many advertise widely near university campuses and on social media.
A recent survey of students around the world by Swansea University found about 15% had cheated in the past four years, up from an average of 3.5% over the past 40 years.
It also suggested 31 million students globally had paid someone else to undertake their work.
The vice-chancellors say making the services illegal would stop them operating out of the UK and allow them to be removed from online search engine findings.
In the letter, they call on the government to commit to introducing legislation to ban the provision and advertising of essay mills before the end of this Parliament.
They also want the government to support efforts by Quality and Assurance Agency (QAA), the higher education standards body, and the Office for Students (OFS) to tackle the issue.
The QAA has previously proposed that a UK Centre for Academic Integrity is established with a remit to research and analyse academic misconduct.
Essay mill companies are already banned in New Zealand and some parts of the United States.
There is currently an online petition calling for a change to UK law.
One of the signatories on the letter is the vice-chancellor of the University of Nottingham, Prof Shearer West.
Like many universities, it tries to deter students from contract cheating.
"We promote study skills and support students in researching and writing effectively, to ensure they don't veer into plagiarism," a university representative said.
The university also uses "specialist software, email filters and academic review to counter plagiarism - and the promotion of essay mills is of course banned on campus".
"Ultimately, the best way to tackle essay mills is to ban them, which is why our vice-chancellor has signed the open letter calling on government to legislate in this area."
Universities Minister Sam Gyimah said: "I expect universities to be educating students about these services and highlight the stiff, and possibly life-changing, penalties they face.
"I also want the sector to do more to grip the problem - for example by tackling advertising of these services in their institutions and finally blocking these services from sending an alarming number of emails to the inboxes of university students and staff.
"I have been working with organisations across the higher education sector to bear down on this problem and this has already resulted in the likes of YouTube removing adverts for these essay mills, but legislative options are not off the table."
'A professional service - but the essay was terrible'
Nicola Dandridge, chief executive of the Office for Students, said the rise in the use of essay mills in recent years had sought to turn cheating into an industry.
"Essay mills are deeply unethical, and their operation is unfair on the vast majority of students who hand in their own work.
"The Office for Students has a central role to play in ending essay mills; universities and colleges wishing to register with us must demonstrate that they are protecting the reliability and credibility of degree standards."
Dan Burns paid nearly £65 for an essay on the portrayal of women in Oliver Twist and Jane Eyre while investigating "essay mill" companies for the student website The Tab.
"The service was quite professional. It wasn't some kind of dark website," he told BBC News.
"You could get undergraduate essays, postgraduate essays. You could get whole dissertations. [There were] different services where you could actually talk to the person who was writing your essay.
"This person told me I would be getting a high quality product written by masters students, PhD students, and he was essentially telling me no-one would know I'd used a fake essay writing website and that it would get me this 2:1, First kind of level, and I would have to put no work in.
"The essay was terrible. I took it to my lecturer and he kind of skim read it and said, 'Well, it wouldn't get any more than a 2:2'. But the more we looked into it and the more we read it and the way we looked at the grammar it would barely scrape a Third really... There were just really basic sentences".