Chancellor pledges £400m for 'little extra' for schools
By Katherine Sellgren
BBC News education reporter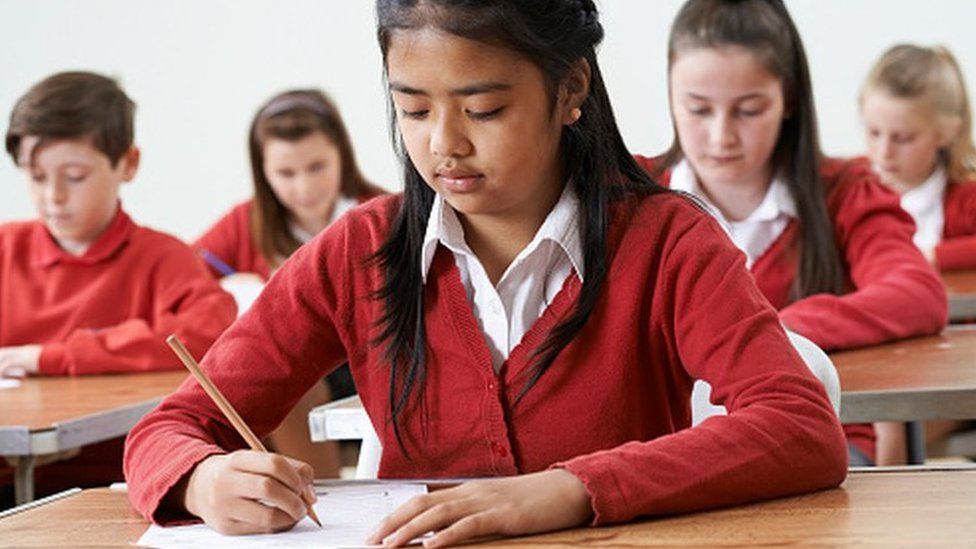 Schools in England are to receive a one-off £400m to buy "that extra bit of kit", the Chancellor, Philip Hammond, has announced in his Budget.
The money is worth, on average, £10,000 per primary school and £50,000 per secondary school, he said.
Unions said Mr Hammond's gesture would "infuriate" head teachers.
His announcement comes as England's school leaders have been campaigning for better funding for schools, saying their budgets have been squeezed.
Responding to the chancellor's £400m one-off cash injection, Geoff Barton, general secretary of the Association of School and College Leaders, said: "While we welcome any increased investment in schools, the £400m 'bonus' announced today hardly scratches the surface of what is needed.
"The chancellor's comment that this money will help schools to 'buy the little extras they need' shows a complete misunderstanding of the prevailing funding pressures.
"Many schools don't have enough money to provide a full curriculum or individual support to pupils, let alone provide 'little extras'. What they desperately need is improved core funding.
"It is a sign of the government's priorities that it is spending more on fixing potholes than on fixing the school funding crisis."
'Can't afford essentials'
School leaders' union NAHT said: "This is a Budget that will infuriate school leaders. Schools and young people are most definitely much too far down the government's list of priorities.
"There's more money for potholes than for pupils. For schools and young people, austerity is most certainly not over."
Jules White, head of Tanbridge House School in Horsham and leader of the Worth Less campaign, told the BBC: "Never mind Mr Hammond's 'extras' - schools can't afford the essentials.
"Every head teacher has made clear to the chancellor and the government that our schools have been bled dry in recent years.
"We've appealed for help with our budgets and especially for support children with special needs and for the most disadvantaged pupils. It's all fallen on deaf ears.
"Parents, governors and professional associations have all politely requested help for school budgets. They've been completely ignored, too. Are we all wrong?"
Schools say their budgets have been squeezed by unfunded pay rises, national insurance payments, other cost pressures and rising pupil numbers.
Mr Hammond also announced that he would give £1.7m for educational programmes in schools to mark the 75th anniversary of the Bergen-Belsen Nazi concentration camps.
He said the fund was to ensure "the next generation hears the stories of those who survived the holocaust, and of the British soldiers who liberated... because the terrible events in Pittsburgh this weekend remind that the battle against anti-Semitism did not end with the defeat of Nazi Germany".
Phil Lyons, chief executive of the National Holocaust Centre, said: "We are very pleased that the Treasury has committed additional funds to Holocaust education.
"We are privileged to work with survivors of the Holocaust who, in sharing their experiences, enable young people to be challenged by the consequences of hate and the enormity of genocide.
"This is more vital than ever as we see an increase in anti-semitism and hate crimes."
Related Internet Links
The BBC is not responsible for the content of external sites.