Anger over chancellor's £400m 'little extras' for schools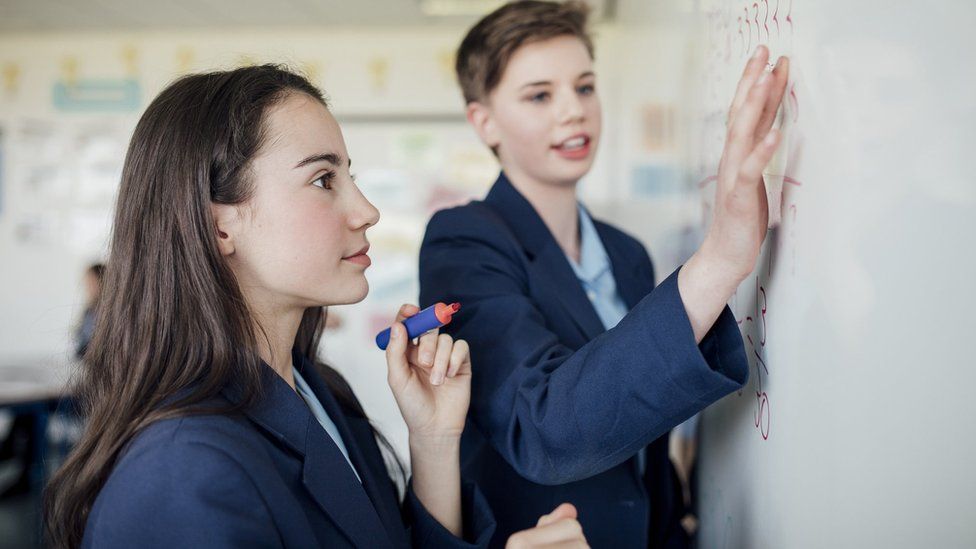 Schools in England will receive the sum to "buy the little extras they need", Chancellor Philip Hammond said.
Shadow education secretary Angela Rayner said Mr Hammond's choice of language was "utterly insulting to parents and teachers".
Unions said Mr Hammond's gesture would "infuriate" head teachers.
Mr Hammond's announcement comes as England's school leaders have been campaigning for better funding for schools, saying their budgets have been squeezed.
Campaign group Save Our Schools described Mr Hammond's offer as "patronising" and a "big mistake".
The hash tag "littleextras" began trending on social media after the Budget, with some parents pointing out the cash injection was less than the £420m the chancellor had allocated to fixing potholes.
I've watched 15 budgets and almost as many PBRs / Autumn statements. I don't know for certain, but I suspect #littleextras is perhaps the single most tin eared announcement I've ever heard announced in any of them #Budget2018

— Jonathan Simons (@jonathansimons) October 29, 2018
I think we may need a list of our #littleextras

Books, paper, ink, pencils, teaching assistants, qualified teachers, leadership time, supply teachers, caretakers, cleaners, heating, IT equipment, mental health training.

Anything else?@PrimaryRocks1@chrisdysonHT @smithsmm

— Luke James (@LukeJamesTeach) October 29, 2018
One parent joked he would be dressing his children as potholes "to see if we can get more funding for their school".
And a teacher said they could not wait to "treat" the children to some new glue sticks.
Speaking to BBC Breakfast, the chancellor hit back at claims his announcement suggested he did not understand the problems facing schools.
Mr Hammond said he had "provided a little bonus to every school", which he hoped "would be welcome".
He added he would be "sending a cheque to every school" and he knew the schools in his constituency - Runnymede and Weybridge, in Surrey - would be "quite happy" with the money.
Mr Hammond also insisted the £400m announced in the Budget was separate from long-term schools funding, which he said would be addressed in the spending review next year.
While the chancellor admitted some departments could face cuts in the spending review, he told BBC Radio 4's Today programme the other option was that "everybody" would get a 0% increase in funding, once inflation was taken into account.
Michael Gove - "Job done. There's absolutely nothing more we can do to humiliate the teaching profession".
Philip Hammond - "Hold my beer.."#LittleExtras

— Chris White (@onechriswhite) October 29, 2018
However, teachers on the TES forum complained Mr Hammond's announcement made it seem "like these 'little extras' are a treat or a bonus", adding: "A pack of dry wipe pens or glue sticks are essentials that a lot of schools are finding it harder to afford."
Another poster wrote: "Photocopying must cost a fortune but as we have no text books we do more of it. All the computers are on their last legs. We are short of chairs so have to grab them from other rooms if we can. Half the gas taps in my lab haven't worked in over a year."
Writing for Schoolsweek, former government adviser on education Jonathan Simons said Mr Hammond's announcement was phrased "in the manner of which a 1950s husband may have given his wife some pin money".
The money is worth, on average, £10,000 per primary school and £50,000 per secondary school, the chancellor said.
But Emily Proffitt from Tittensor First School in Staffordshire told BBC Radio 5 Live that, even in her "very small rural school", £10,000 would not account for 1% of her budget.
She added the sum would not be able to fund the "things we are absolutely desperate for", such as better provision for people with special educational needs or teachers' salaries.
Meanwhile, shadow chancellor John McDonnell told BBC Breakfast there was "no new money for the day to day running of schools".
He continued: "People have been really angered by that. They're saying: 'We've been laying off teachers and teaching assistants, we can't afford the books, the pencils, the crayons.'"
Geoff Barton, general secretary of the Association of School and College Leaders, said: "While we welcome any increased investment in schools, the £400m 'bonus' announced today hardly scratches the surface of what is needed."
School leaders' union NAHT said: "This is a Budget that will infuriate school leaders. Schools and young people are most definitely much too far down the government's list of priorities."