Education spending now 'skewed' to poor following 'remarkable shift'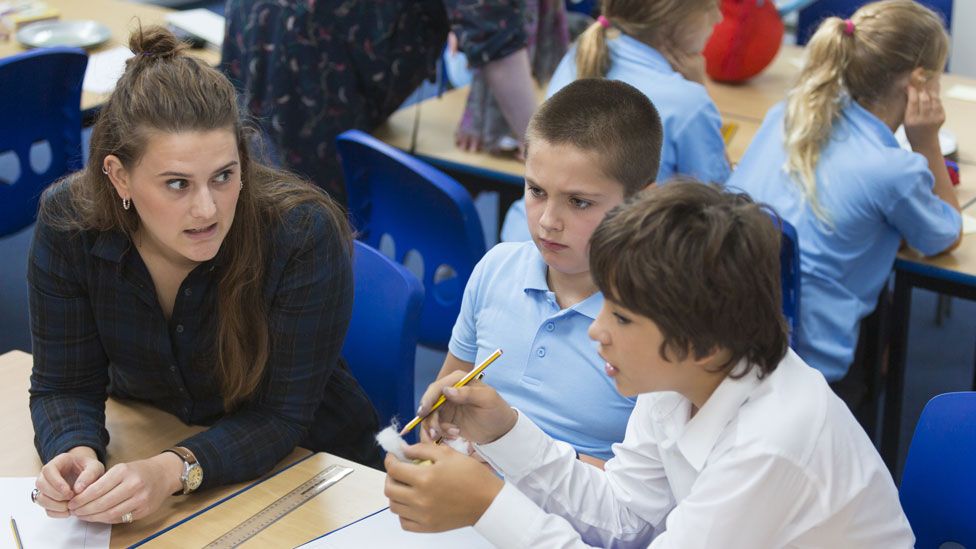 There has been a "remarkable shift" in poorer children now receiving a bigger share of education spending in England, says the Institute for Fiscal Studies.
The independent financial researchers say in previous generations children from richer families were the main beneficiaries, as they were likely to stay longer in education.
But this pattern has been reversed by policies deliberately "skewed" to give more funding towards the deprived and with more poorer youngsters going to sixth form and university, it says.
The analysis reveals that poorer pupils who took their GCSEs in 2010 had almost £10,000 more spent on them during their school years than their richer counterparts.
The following years, up to those leaving university in 2016, have been even more "pro-poor" in funding levels, says IFS research fellow, Luke Sibieta.
"This is a remarkable shift in the shape of public spending, with an increasing amount of redistribution taking place through public-service spending," says Mr Sibieta,
The IFS says that back in the 1980s and 1990s, better-off families would have taken the lion's share of public spending on education because their children were much more likely to benefit from continuing beyond the age of 16.
This continued into the early 2000s, when the balance began to be shifted by a combination of extra funding aimed at disadvantaged pupils and increasing numbers of poorer families staying on for A-levels and then degrees.
For those taking their GCSEs in 2003, there was still an advantage to the wealthy - with £6,000 more being spent on the richest fifth of pupils compared with the poorest.
By 2010, policies to support the disadvantaged in school meant that poorer pupils were getting £9,500 more per head in spending.
When this was combined with spending on sixth form, college and university, it meant that in 2010 both the richest and poorest had £73,000 spent on their education.
The introduction of the pupil premium from 2010 onwards would have shifted the balance further towards supporting the poorest, the IFS says.
Going to university has remained more likely among the wealthy, but Mr Sibieta says the public cost of university, even with loans for tuition fees, does not outweigh the overall balance of the poor getting a greater share of spending.
This has seen poorer youngsters receiving 20% more spending on average in their school years than the richer pupils.
"This was the intended and direct result of reforms to the school funding system over the 2000s," says the study.
"In less than a decade over the 2000s, education spending shifted from being skewed towards richer pupils to being skewed towards poorer pupils instead," says Mr Sibieta.
Sir Kevan Collins, chief executive of the Education Endowment Foundation, which researches ways to help disadvantaged pupils to catch up, said: "The moral and educational case for additional support to underprivileged children remains as strong as ever.
"Young people from disadvantaged backgrounds are still much less likely than their classmates to leave school with the qualifications and skills they need to get on in life," he said.
Paul Whiteman, leader of the National Association of Head Teachers, said: "Unfortunately this only works if there is enough money in the system in total.
"At the moment all children are being short-changed by the government's real-terms cuts to education funding."