Parents asked to pay for books and to attend events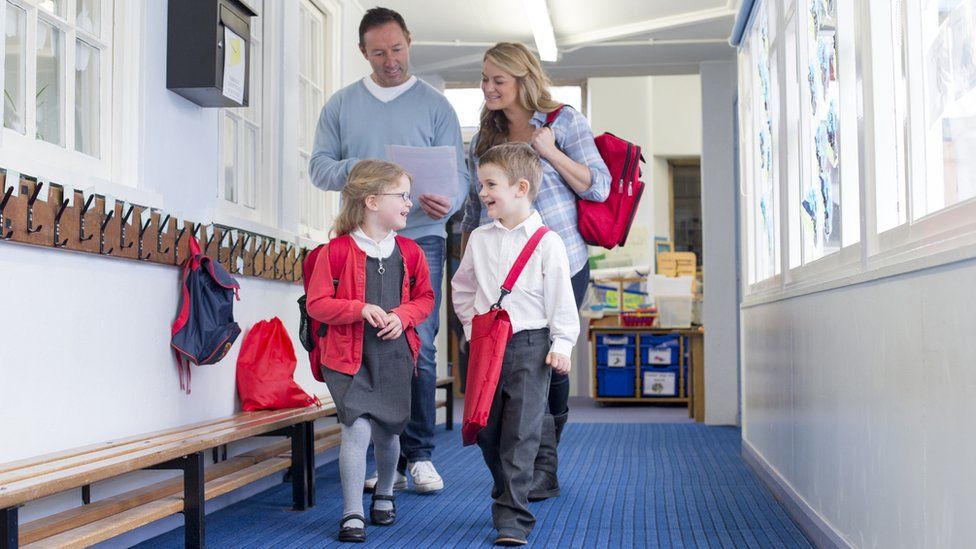 The average monthly voluntary donation parents are making to school funds rose by £2.45 over the past year from £8.90 to £11.35, a survey suggests.
The charity Parentkind found parents being asked to pay to attend events such as concerts and sports days.
The findings come after Chancellor Philip Hammond caused offence by offering £400m for "little extras".
The government says more money is going into schools than ever before, rising to a record £43.5bn by 2020.
The one-off payment for schools in England would be worth, on average, £10,000 per primary school and £50,000 per secondary school, the chancellor said in Monday's Budget.
But he came under fire from head teachers, unions and opposition MPs for failing to understand the pressure on school budgets and his announcement was described as "insulting" and "infuriating".
In its report, based on the latest annual survey of parents in England, Wales and Northern Ireland, Parentkind said: "Parents are increasingly under pressure to make financial contributions to support schools with their core budgets.
"This not only includes making donations to the school fund but also contributing in a number of other ways such as paying for goods, activities and services that were once free."
About half (49%) of respondents said the pressures on school budgets had impacted negatively on their child's education.
The proportion saying schools were cutting back on teaching assistants (TAs) had also risen - 18% this year as opposed to 15% last year.
And 14% said their child's school had been cutting back on equipment, compared with 11% in last year's survey.
43% of parents say they have been asked to give money to a school fund
over a quarter of the parents (26%) reported paying for school clubs that used to be free
28% had been asked to pay to attend events such as sports days and concerts
a fifth (21%) had been asked to supply teaching equipment such as stationery, books and glue pens - up from 15% in 2017
more than one in 10 (12%) had supplied essentials such as toilet paper - up from 7% the previous year
Parentkind surveyed 1,500 parents - 1,200 from England, 100 from Northern Ireland and 200 from Wales - over the summer holidays.
Michelle Doyle Wildman, acting chief executive of Parentkind, said: "Mums and dads have told us that they are donating more to the school fund and are under increasing pressure to pay for clubs, materials and events that used to be free.
"Not only does this indicate that the impact of school funding shortfalls on families has been underestimated, it also raises the spectre that increasing parental financial contributions may have the unintended consequence of reinforcing and increasing educational disadvantage - driving a wedge between home and school.
"It's clear that parents are concerned about the levels of investment in our children's education and development and are seeing undesirable changes at the coalface."
A Department for Education spokeswoman said there was more money going into schools than ever before, rising to a record £43.5bn by 2020.
"Every school attracts more funding per pupil through the national funding formula, high needs funding has risen to over £6bn this year, and the 3.5% pay rise we announced for classroom teachers on the main pay range is backed by £508m government funding," he said.
Related Internet Links
The BBC is not responsible for the content of external sites.