Girls 'more likely to face loneliness'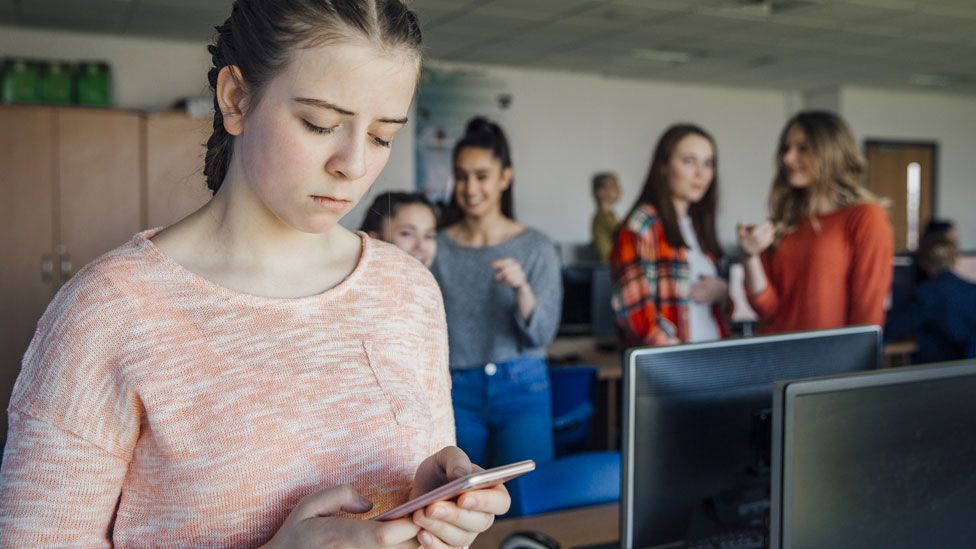 Young women are more likely than young men to have feelings of loneliness, according to a study from the Office for National Statistics (ONS).
About one in 10 young people in the UK often feel lonely, says the first such analysis from the ONS.
The study found a "stigma" attached to loneliness, with young people fearing it would be seen as "failing".
There were young people who used social media to "cover up" their feelings and pretend their lives were not lonely.
There were about 11% who often felt lonely and a further 34% who sometimes felt lonely - with more girls than boys feeling this way.
The research looked at factors that seemed to make loneliness more likely - and found it was particularly associated with times of transition in young lives.
The move from primary school to secondary school and from school to university were both likely to be associated with loneliness.
Young people in cities were more likely to be lonely than those in rural areas or smaller towns.
Poorer youngsters, such as those eligible for free school meals, had higher rates of loneliness.
Loneliness could also be associated with specific problems - such as illness, family tensions, bereavement or bullying.
The fear of being seen as lonely was another problem in itself.
There was an embarrassment about being seen as lonely, with a worry that it would label people as being socially unattractive or unpopular.
Social media could be used to keep in touch with friends, but it could also be used by people wanting to pretend they were not lonely.
Young people interviewed for the study said social media could make them feel excluded or leave them with only "shallow" exchanges instead of genuine friendship.
The study from the ONS follows growing concern about the impact of loneliness.
Dawn Snape, of the ONS, says the study will provide more information about how loneliness might affect people's health and wellbeing.
"We've looked at how often children and young people feel lonely and why. An important factor is going through transitional life stages such as the move from primary to secondary school and, later, leaving school or higher education and adapting to early adult life."