Turing Scheme: What is the Erasmus replacement?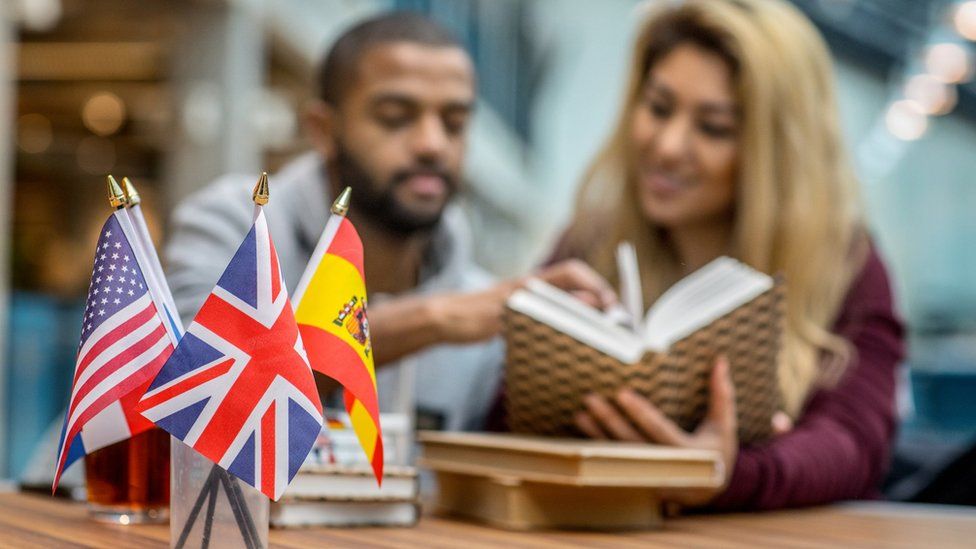 The government has begun inviting applications for the Turing scheme, which will enable UK students to study in other countries.
The scheme is named after the mathematician Alan Turing, and replaces Erasmus, a European Union (EU) programme which UK students can no longer take part in.
The UK turned down an offer to continue participating in Erasmus after Brexit.
Universities minister Michelle Donelan said the Turing scheme would "enable up to 35,000 students throughout the UK to work or study across the globe".
What is the Turing scheme?
The new scheme will provide funding "towards placements and exchanges" of students.
Universities and other organisations in the UK can apply for grants to help cover travel expenses and living costs as well as the administrative costs of running the scheme.
Applications have to be made by bodies such as universities, further education colleges and schools. If they are successful, these bodies can invite their own students to apply for individual funding.
How is it different to Erasmus?
The Turing scheme will provide placements across the world.
Erasmus covers placements across the EU and some non-EU countries that pay to be part of the scheme.
Both schemes are open not only to university students but also those in vocational training, apprentices or those who are retraining through a college or school.
How much money is on offer?
The Turing scheme will offer different amounts based on where you are going and for how long.
For example, a university student going to France for six months would get £335 (€390) per month under the Turing scheme, while the Erasmus scheme paid £317 (€370) per month in 2020-21.
UK students did not have to pay tuition fees when studying abroad under Erasmus because the scheme was reciprocal - it allowed EU students to come and study in the UK as well.
The Turing scheme will not pay tuition fees for UK students studying abroad or for students from other countries studying in the UK. Instead, it expects the fees to be waived by the universities that take part.
Universities Minister Michelle Donelan told the Today programme "The way it'll work is our universities will partner with another university and they will waive the fees because they will be exchanging students."
The government has allocated £110m for the first year of the scheme, which starts in 2021/22, but it is not currently funded after that.
What help is there for disadvantaged students ?
Both schemes offer support.
Erasmus pays an additional £103 (€120) per month - a total of £420 (€490) per month for a poorer student going to France for six months in the current academic year.
The Turing scheme would pay £445 (€519) per month to the same student, but also contribute to travel costs (the amount will depend on how far the student is travelling).
It will also provide poorer applicants with additional expenses, such as the costs of visas, passports, and health insurance.
What about students with special needs or disabilities?
Again, both Erasmus and Turing offer support.
The Turing scheme website says that, unlike Erasmus, it will "cover preparatory visits to carry out risk assessments and ensure participants will be able to equally access and take part in all elements of a placement".
Do any UK students still qualify for Erasmus?
Students at universities in Northern Ireland will be able to participate in either scheme, as part of an arrangement with the Irish government.
Students at universities in Great Britain will only be eligible for Turing.
Some UK students are still participating in Erasmus programmes using funding awarded before the end of 2020, which may allow them to continue until the end of the 2021-22 academic year, but no new funding will be available.
Since Brexit, UK students have had to deal with immigration regulations in the EU.
UK nationals are only able to stay in an EU country for 90 out of every 180 days without a visa (except for Ireland, which will still have free movement with the UK).
The government has published guidance for UK nationals planning to study in the EU, and encourages students consider wider issues such as health and travel insurance.
How many students benefited from Erasmus?
Although coronavirus is now affecting student mobility, figures from before the pandemic showed that about half of UK university students who studied abroad did so through Erasmus.
In 2017, 16,561 UK students participated in Erasmus, while 31,727 EU nationals came to the UK.
"The Erasmus+ programme has delivered and continues to deliver significant benefits to the UK and we need to ensure the positives of the programme are not lost as we move into the next stage," Jane Racz, the director of the programme in the UK, told BBC News last year.
"Since 2014, almost €1bn [£900m] of funding has been distributed to UK Erasmus+ projects, with over 930,000 participants involved."
The National Union of Students has said the government's decision to replace Erasmus will "damage" the potential for many students to study abroad.
"Despite the claims of this government, they have not backed up the new Turing scheme with the funding required to support disadvantaged students to study abroad," Hillary Gyebi-Ababio, NUS vice-president for higher education, said. "This will harm the futures of thousands of students for years to come."
Kate Green MP, Labour's shadow education secretary, said government "rhetoric on the Turing Scheme does not live up to the reality".
Correction: This piece has been updated to make it clear that students from other countries will be able to study in the UK but they will not receive funding under the Turing scheme.
Related Internet Links
The BBC is not responsible for the content of external sites.