Secondary pupils back - but most only part-time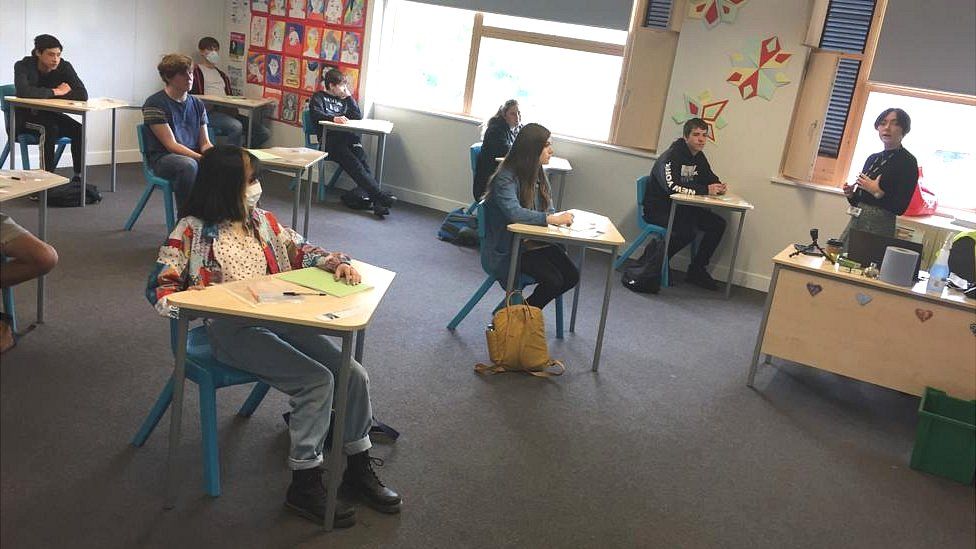 Secondary pupils in England have begun to return to school - but a survey suggests for more than 90% it will be less than two days per week.
Social distancing means only a quarter of pupils in Years 10 and 12 can be in school at any one time.
A survey of 8,000 teachers suggests half of Year 10 pupils will get one or half a day's teaching per week.
The Department for Education says all pupils could go to school for a one-off "check-in" meeting with teachers.
"I want to make sure as many pupils as possible can get back into the classroom and be reunited with their friends and teachers before the summer," said Education Secretary Gavin Williamson, issuing updated guidance.
As well as the return of some secondary classes, and pupils in Reception, Years 1 and 6, schools have been told they can provide a catch-up meeting with teachers for pupils in all other year groups before the end of term.
Geoff Barton, leader of the ASCL head teachers' union, said the first day of the return to secondary school appeared to have "got off to a smooth start".
But figures from Teacher Tapp, a daily survey app for teachers, show that for the returning secondary year groups this is far from regular, full-time school.
The most common response - from about a third of teachers surveyed - was that Year 10 pupils would have one full day or two half days per week, with the others offering a wide range of combinations of days and hours in school and online lessons.
Only about 10% were likely to get more than one day a week in school - and about 5% were only getting a day per fortnight.
Schools are focusing on English, maths and science and less than a third are teaching all subject options.
Important to get back, say pupils
Macy, a Year 10 pupil in Hartlepool, said that school would be very different from usual - but wanted to catch up as she worried she had "dropped behind".
"We won't be in school for as long - and we'll be in bubbles, which is a group of six people. And there are measures put in place - like a one-way system, so it prevents people crossing in corridors," she told BBC Radio 4's Today programme.
But she was keen to get back after being "stuck in the house and and not seeing friends face-to-face".
"You lose your focus and your motivation to do anything," she said. "It's important to get back as soon as we can."
Gulliver in Tameside, Greater Manchester, said his school would not open until next week - and said there was a lack of information about what would happen next.
Another Year 10 pupil in Hartlepool, Isaac, said his school had been in touch about the safety measures - and he said it was "really important" that young people could go back.
He said they would benefit from having "routines in place - and we feel like we're finally getting back to normal and feel like we're making progress".
Pupils have been studying at home, but they reported different levels of online teaching being made available.
A proposal signed by four former education secretaries, a former head of Ofsted and the Chairman of the Education Select Committee, Robert Halfon, as well as former Prime Minister, Tony Blair, is calling for funding for online access to disadvantaged families.
Labour MP Siobhain McDonagh is to present a Bill on the issue in Parliament.
She said: "This policy isn't a silver bullet and can't replace months of missed education. But it would make an immediate, tangible difference to families right across our country."
It is estimated that at least 700,000 disadvantaged children lack access to computers or internet, which are crucial for them to continue their education remotely.
Ministers have already set up a scheme to lend 200,000 laptops to disadvantaged children, with 100,000 devices so far distributed to local authorities and academy trusts.
Education Secretary Gavin Williamson is also due to set out the details of his summer catch-up plans in the coming days.
It comes after he scrapped plans for primary schools to bring all pupils back for a month before the summer break.
In Monday's updated guidance, the Department for Education confirmed again that if schools had enough space they had the "flexibility" to bring back more pupils.
If exams were pushed back it would give schools more time to catch up on missed lessons and allow courses to be completed.
Paul Whiteman, general secretary of the National Association of Head Teachers, said secondary schools in England were working hard to bring students safely back.
But he called for a detailed and coherent plan to be agreed as soon as possible for how schools would reopen in the autumn.
If social distancing is still in place there will be pressures on school capacity and staffing for any extra classrooms.
Liberal Democrat education spokesman Layla Moran has written to the PM and education secretary, calling for a recruitment campaign.
She is also calling for local safe space registers to be drawn up to allow schools to use buildings and community spaces that are vacant nearby.
And local councils are urging ministers to work with them to find local solutions.
Mr Whiteman, however, said relying on finding empty buildings was unlikely to be workable.
"Based on government guidelines, we would need roughly double the number of classrooms available. We are talking about hundreds of thousands of spaces," he said.