GCSE results 2022: When are they out and how are grades being decided?
By Vanessa Clarke
Education reporter, BBC News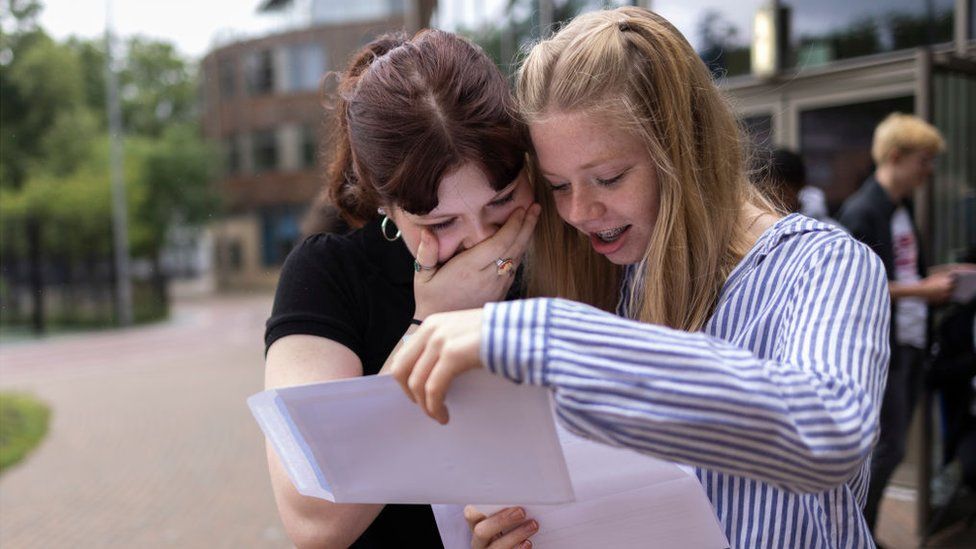 Students across the UK are waiting for GCSE results which - for the first time in two years - will be based on end-of-year exams.
In recognition of the serious disruption pupils faced during the pandemic, this year's exams will be graded more generously.
Pupils will get their GCSE results from 08:00 BST on Thursday, 25 August in England, Wales and Northern Ireland. Some BTec Firsts, Technical and Tech Awards students will also receive results.
You should be able to collect your results in person from your school, so check what arrangements are in place.
If you can't go, ask your school in advance if you can access them online, or if someone else can pick them up for you.
Pupils in Scotland received their exam certificates by post but also had the option of signing up for results by text or email.
How have grades been decided this year?
Students may need fewer marks to reach a particular grade, or if they are very close to the boundary for a higher grade, they may be looked at more favourably than in previous years.
In various courses, some parts of the curriculum were cut, and students were given additional advance information about areas to revise.
It's expected that the overall results will be lower than in the last two years, when grades were based entirely on teacher assessment. But they are predicted to be higher than in 2019, the last year of exams before the pandemic.
Scotland also had record results during the pandemic. And while the 2022 pass rate dropped, it was still up on 2019.
Wales kept its letter-based grading structure, while Northern Ireland opted for a mixture of letters and numbers.
In Scotland, the National 4 qualification is based on continuous assessment, with each unit that makes up the course marked as pass or fail. National 5s are graded A-D or "no award".
BTecs - Business and Technology Education Council qualifications - are vocational courses which are largely assessed through practical learning, with exams worth a small part of the final mark.
There are three different types: BTec Firsts are available from entry level to level 2, which is a similar standard to GCSEs.
As with GCSEs, this year's grade boundaries are more generous, both for units taken in school or college and the final exams.
Students are awarded a pass, merit, distinction or distinction*.
What if I'm not happy with my results?
If you're unhappy with your GCSE or BTec grade, you should first talk to your school or college.
In England, Wales and Northern Ireland, your school will contact the exam board on your behalf and ask for your marks to be reviewed.
If you're still not satisfied, you can request a review from the exams regulator Ofqual.
In Scotland, the process is slightly different. You normally receive a grade estimate which is submitted to the exam board.
If your final grade is lower, you can appeal directly to the SQA, but should speak to your school or college first. If your appeal is accepted, the exam board will look at the marks you received.
Yes, you can resit any GCSE or National 5 exam the following year. GCSE Maths and English take place in November.
If you want to explore this option, you should speak to your school about the best course of action.