A-levels: Anger over 'unfair' results this year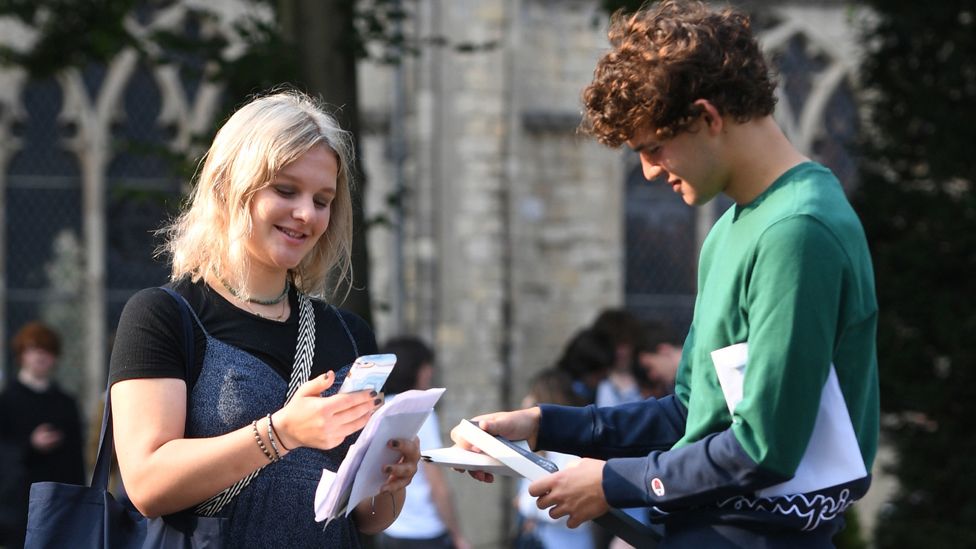 There is anger among schools, colleges and students, after nearly 40% of A-level grades awarded on Thursday were lower than teachers' predictions.
In England, 36% of entries had a lower grade than teachers predicted and 3% were down two grades, in results after exams were cancelled by the pandemic.
School and college leaders are calling for a review and say all fees for appeals should be waived.
Prime Minister Boris Johnson said the results were a "robust set of grades".
The overall results, across England, Northern Ireland and Wales, show record highs for A* and A grades.
But David Hughes, chief executive of the Association of Colleges, said he had heard from a number of colleges where more than half of their school-assessment grades have been adjusted downwards following moderation.
Paul Whiteman leader of the heads' union NAHT said: "The government must make sure that there is no financial barrier to a school or college making an appeal."
Geoff Barton, leader of the ASCL head teachers' union said: "While there had been an overall increase in top grades, there was a "great deal of volatility among the results at school and student level."
He said students felt grades had been pulled down "in a way that they feel to be utterly unfair and unfathomable".
He called on the government and exams watchdog Ofqual to review the moderation process in England "as a matter of urgency".
"We would warn them against simply digging in their heels, and insisting all is well.
"This results day must have been an absolute nightmare for many schools, colleges, and young people - it is a shambles."
For the top A* and A grades, independent schools in England saw the greatest improvement on last year - up 4.7 percentage points.
This compares with a 1.7, 2 and 0.3 percentage points improvement for top grades for England's academies, comprehensives and colleges respectively.
Prime Minister Boris Johnson said pupils would be able to sit exams if they feel they could have done better.
"Where pupils are disappointed, where they feel that they could have done better, where they feel that there's an injustice been done to them, there is the possibility of appeal and they can re-sit, they can take a re-sit this autumn as well."
"But looking at the big picture, I think overall we've got a very robust set of grades, plus you've got the situation in which more pupils than ever before are getting their first choice course at university and more kids from disadvantaged backgrounds going to university."
Education Secretary Gavin Williamson said the "majority of young people will have received a calculated grade today that enables them to progress to the destination they deserve, with the added safety net of being able to appeal on the basis of their mock results, as well as the chance of sitting autumn exams".
But Labour leader Sir Keir Starmer said: "Something has obviously gone horribly wrong with this year's exam results.
"Nearly 40% of young people have had their grades marked down and that's thousands of young people whose opportunities could have been dashed."
for A-levels: 9% of entries were A* (up from 7.8% in 2019)
27.9% were A* and A (up from 25.5% in 2019)
these are the highest ever levels of A* and As - up from a previous high of 27% in 2011
78.4% of entries were A*-C (up from 75.8% in 2019)
Psychology now the second most popular subject, after maths
girls outperform boys, except in A*s
in England, the moderation means that 36% of results have been lowered by one grade, 3% by two grades, 2% have increased
there will be 25,000 university courses available in clearing, including 4,500 in top Russell Group universities
for vocational qualifications, the Department for Education says results "broadly in line with previous years"
The proportion of entries getting an A* or A grade is at a record high this year - with the 27.9% above the previous highest of 27% in 2011.
And there are increases in those getting A* to C - as the exam regulator had promised a more lenient approach.
'My future has been set back'
At Wilberforce Sixth Form College in Hull, while some students were celebrating, others were very disappointed.
Abbi is one of those students who is not happy with her results, saying she had missed out on her place at Durham University to study engineering.
She said she would now have to consider retakes or finding a clearing place at another university.
"It seems like some unfair grading. When I opened them I had a bit of a cry," she told the BBC.
"My future has been set back completely," she said.
"I had my heart set on Durham and it's now not an option for clearing because there's no clearing for my course."
"I would have happily sat the exams but it was up to the government," she said, adding that she was angry her results had been affected by something out of her control.
Principal Colin Peaks said he had never seen "such a negative feeling" on results day in all his years of teaching.
Mr Peaks said there was "something worrying across the board", with many good students not getting the grades they would have expected.
"The anomalies within the system aren't right - I'm seeing anomalies across the piece that do not make sense to me."
He said basing results, in part, on last year's students' results was wrong because "they're different".
"We are going to see lots of appeals," he added.
Students taking vocational exams have been getting estimated results over recent weeks - with more than 250,000 receiving their grades in BTec and Cambridge Technical qualifications which are equivalent to A-levels and strong GCSE passes.
The Department for Education says vocational results are "broadly in line with previous years".
Figures from the admissions service, Ucas, show that more students have been accepted onto UK degree courses this year.
Among UK applicants, 358,860 have been accepted - a 2.9% rise compared with 2019.
Of these, 316,730 have been accepted on to their first choice, up 2.7% on the same point last year.
Clearing is an increasingly popular route for students to find a degree course, with leading universities among those offering last-minute places through the system, Ucas said.
By Sean Coughlan, education correspondent
This is a strange year for A-level results in every way, with grades arriving for exams that were never taken.
In more usual times the headlines would have been about this being a record year for top grades - with almost 28% getting A*s or As.
But instead this has been an exam results day full of uncertainty, with head teachers warning about volatility below the surface of rising grades.
Almost two out of every five results were lower than the grades predicted by their teachers - and heads are warning of a confusing pattern of where results have gone down.
But, at the same time, those trying to get to university might find that they're able to get in with lower grades than in previous years, with the promise of "super-flexible" admissions.
The confusion extends to what happens next. Because for those getting bad news today, it could still be good news through the appeals process.
Have you got your A-level or BTec results today? Are there any questions you'd like to ask our experts? Share your stories by emailing haveyoursay@bbc.co.uk.
Please include a contact number if you are willing to speak to a BBC journalist.