Ofqual chief Sally Collier steps down after exams chaos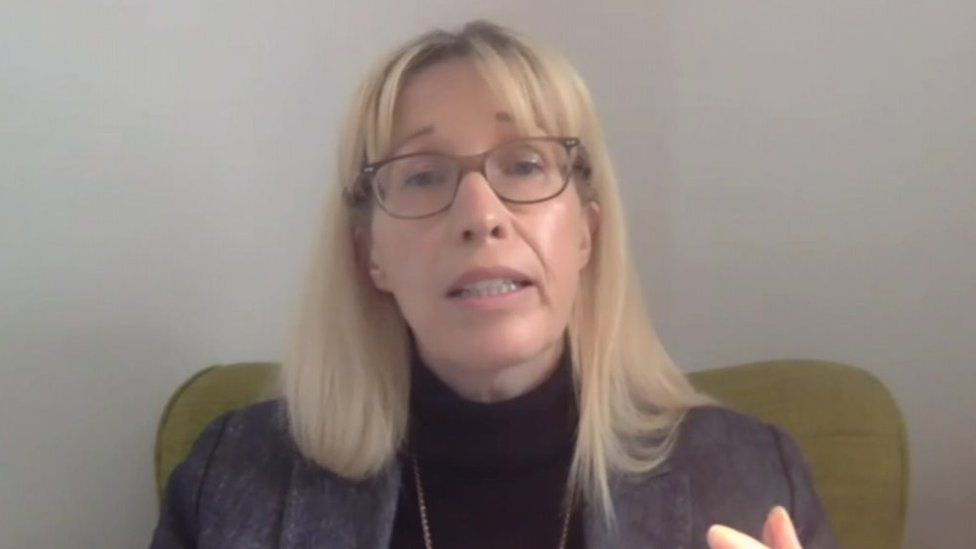 The head of England's exams regulator, Sally Collier, has quit after thousands of students' marks were downgraded for exams they were unable to sit.
Ofqual chief Ms Collier has been under fire for a controversial algorithm which changed GCSE and A-level marks, making them unfair, according to heads.
It also led to many A-level students losing university places they had been offered, and a crunch on degree places.
Education Secretary Gavin Williamson thanked her for her commitment.
He added: "Moving forward, my department will continue to work closely with Ofqual's leadership to deliver fair results and exams for young people."
But teaching unions say questions remain for ministers about the fiasco, despite Ms Collier's resignation.
"This move follows the failure of the statistical model that led to this year's grading fiasco, but the fault is not hers alone," said the head of the Association of School and College Leaders, Geoff Barton.
"Ministers have questions to answer over the extent to which they scrutinised and challenged the methodology and reliability of the statistical model, particularly given the enormity of the task and the importance of getting it right."
'Runs far deeper than one person'
Meanwhile, National Education Union joint general secretary Kevin Courtney said: "Someone had to take responsibility for the exams fiasco, but the issue runs far deeper than the actions of one chief executive.
"We have no sure way of knowing where the balance of fault lies, but we can be quite certain that Gavin Williamson gave direction to Ofqual that there should not be grade inflation and all candidates should get a fair grade."
The previous chief of Ofqual, Dame Glenys Stacey, has been asked to step in.
She will run the next stage of the exams process on a temporary basis until December, the Ofqual board said, along with the chief of Ofsted, Amanda Spielman, who previously worked at Ofqual.
Exams for GCSE and A-level students were cancelled by Mr Williamson in March, just before schools were closed, when the nation was in the grip of the coronavirus pandemic.
A system to ensure pupils could still get their grades was drawn up by Ofqual which involved teachers and schools predicting grades for their pupils from a whole range of evidence
These were then sent to the exams regulator to be moderated so as to avoid more students than usual getting higher grades.
The now discredited algorithm used information on schools' past performance to moderate the grades, drawing complaints that pupils were being judged on the efforts of the predecessors.
Scotland, which used a similar system, rowed back on the arrangement after it became apparent that many bright but disadvantaged pupils were downgraded.
Scotland's education secretary John Swinney announced a switch to teacher-assessed grades and results were re-issued.
But it was not until two weeks after those results were awarded that his counterpart in England, Gavin Williamson, decided to revert to what are known as centre-assessed grades.
This meant that hundreds of thousands of A-level results had to be re-issued and GCSE results were rushed through to schools to be released three days after the government U-turn.
And hundreds of thousands of the BTec students have still not received their grades after the exam board, Pearson, made a last minute decision to re-grade.
Robert Halfon, who chairs the Commons education committee, said Ms Collier agreed to appear before MPs next week only a few days ago.
"I want her still to come because we want to find out, while she was in charge, what went on," he told BBC Radio 4's PM programme. "I very much hope that will be the case."
He added: "There is a very human level to this and she is a public servant and you have every sympathy for her because she is a nice individual and no doubt dedicated and hard working but clearly things have gone badly wrong.
"Whether if she'd had a strong education background, whether that would have made a difference, who knows? "Unfortunately there have been a lot of fingers in this awful algorithm pie."
Mr Williamson said: "Following Sally Collier's decision to step down as Ofqual's Chief Regulator, I'd like to thank her for the commitment she has shown to the role over the last four years and wish her well for the future.
"I welcome Ofqual's announcement that Dame Glenys Stacey is to assume a temporary leadership role as acting chief regulator and also the new internal governance arrangements put in place with Ofsted support.
"This will make sure Ofqual can fully focus on the important functions it must deliver as the independent regulator for qualifications, examinations and assessments in England."
Head of the National Association of Head Teachers, Paul Whiteman, said: "The future remains uncertain in the light of the current pandemic. The current plans are to prepare for a full exam series next summer - best case scenario.
"But the real risk that there will be further disruptions next academic year must be recognised and contingency plans for a range of possibilities need to be put in place.
"Students should not have to endure the uncertainty and chaos experienced this year."