Opening schools a national priority, says government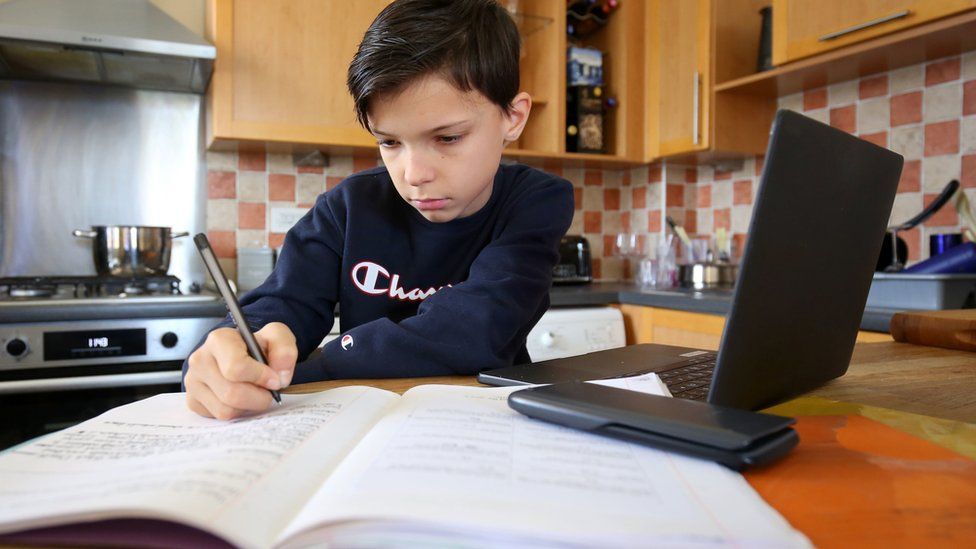 Schools in England will reopen "as soon as possible", Schools Minister Nick Gibb has told the Commons.
Mr Gibb said the government would "prioritise the reopening of schools as we begin the process of lifting lockdown restrictions".
He was responding to an urgent question brought by Shadow Education Secretary Kate Green on schools reopening.
Ms Green said the government had "failed to give parents, children and staff the credible plan they deserve".
"We simply don't know what the government's plan is for school reopening - other than what we read in the newspapers," she said.
"In recent days, we've had reports that the prime minister wants pupils back before Easter, the health secretary saying he wants pupils back after Easter, Public Health England saying overnight the primary schools are already safe to reopen - so which is it?
"What is the plan for full reopening? The schools minister mentioned some metrics but was vague about the required performance against them - can he give us some more clarity?"
Mr Gibb said it was the government's "strong desire to reopen all schools, colleges and universities as soon as possible".
"We are acutely aware of the damage to children's education and development - particularly to the most disadvantaged pupils by being away from school and of the increased burdens placed on parents.
He said that throughout the pandemic "the government has been clear that education is a national priority".
"We had worked hard to keep all schools, colleges and universities fully open but scientific advice we received in January meant we had no choice but to close schools and colleges to all but vulnerable children and the children of critical workers.
"And to restrict in-person teaching in university to those studying to be future critical workers."
He said remote learning was no substitute for face-to-face-learning said there would be an announcement in the next few days and that two weeks would be given.
"We want to give two weeks' notice so parents can make arrangement for the care of their children and we will be making announcements in the next few days."
Robert Halfon, chairman of the education select committee, told Mr Gibb that parents and children were suffering.
"We need to get our schools open again sooner rather than later," he said.
Labour also questioned why Education Secretary Gavin Williamson was not listed to reply to the urgent question, and Ms Green said she was seeing more of Mr Gibb than Mr Williamson.
Asked earlier if Prime Minister Boris Johnson had lost faith in Mr Williamson to do the job, the PM's official spokesman, said: "No. The education secretary continues to do a good job and continues to work closely with schools as we move through the pandemic.
"It remains that we want to see children back in school as fast as possible, but we must do that in a way that is consistent with keeping the infection rate down."
School attendance figures
Figures released by the Department for Education (DfE) on Tuesday show that school attendance has remained steady for the second week since the Spring term began in England's state schools in early January.
On 21 January, one in five (21%) primary school pupils were in school, while one in 20 (5%) secondary school students attended classes in person.
During England's third nationwide lockdown, face-to-face learning has been restricted to children of critical workers and those classified as vulnerable children.
Across the state sector, attendance was up on the first lockdown (between March and May 2020) when only 4% of primary school pupils and 1% of secondary school children attended in person.
Higher attendance figures have been driven by more schools being open, more key workers sending their children to school and the definition of vulnerable children being expanded to include those without access to online learning.
The government has promised to supply schools and councils with 1.3m laptops and tablets for children without devices.
But official figures show the DfE only sent out 74,689 devices in the week to 24 January and has only dispatched or delivered 313,593 since 4 January.
As many as 1.8m children in the UK do not have access to a laptop or tablet at home, according to the regulator Ofcom.