New children's commissioner pledges to 'rebuild' childhood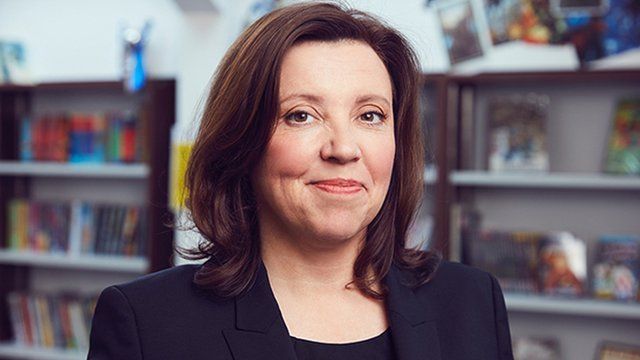 The new children's commissioner for England wants to "rebuild childhood" after the disruption of the pandemic.
Dame Rachel de Souza says the scale of the challenge is like reconstructing the social security system in the wake of World War Two.
She also wants short-term measures - such as free school meals - being extended into the summer holidays, and not "dropping" Universal Credit levels.
Dame Rachel says she will be "fearless" in representing children's interests.
The new children's commissioner is launching what is claimed to be England's biggest survey of children - the "Big Ask" - which will gather children's views on the impact of the pandemic, and what they think are the barriers to children's ambitions
The online survey, to be sent to all schools and also children in youth custody, children's homes and mental health units, will provide information for a "once-in-a-generation" review of how children's lives might be improved.
It takes its "spirit and the ambition" from William Beveridge's 1942 report, which laid the foundations for the post-war welfare state, identifying the five great challenges as "want, disease, ignorance, squalor and idleness".
"Our response to the trauma of the Second World War was to create a blueprint for a social service system and a National Health Service that improved our lives. We have the chance to do the same again now for children," says the children's commissioner.
Dame Rachel, who ran schools in Norfolk and Suffolk, wants a 10-year plan to emerge from her review - with the promise of tackling a political system which can "often short-change children".
For more immediate challenges, on whether free school meals should run across the summer holidays, she told the BBC: "I absolutely want to see free school meals extended.
"And I'm very concerned about suggestions of dropping Universal Credit. If it was dropped down again, I'd like to see services provided in its place, but I'd rather it wasn't dropped."
A former teacher, head teacher and chief executive of a school academy trust, Dame Rachel promised to be an "independent voice, there to fight to protect and promote the rights of children".
If government was "doing something wrong", she said, "I will be fearless in exposing that and challenging them".
840 million missed days in school
The review will consider how children will recover from so much disrupted education - calculating that collectively pupils in England have lost 840 million days of in-person schooling since the start of the pandemic, representing about 19 weeks each.
It will address the "social fault lines" and inequalities that have been exacerbated by the pandemic, between generations, the wealthy and the disadvantaged, by ethnicity and geography.
This includes how the gulf between rich and poor and young and old has widened, with older, higher earners increasing their savings in the lockdown, while poorer families and younger people have faced job losses and increasingly fragile finances.
Today's young people are the first post-war generation to be less well-off than their parents, says the report launching the children's commissioner's review.
"As we emerge from the Covid pandemic, this is the moment for something big, for children to recognise the sacrifices they have made," said Dame Rachel.
"I have seen first-hand the effect of this crisis on young people's hopes and dreams, and sometimes our answers simply have not been good enough."
Labour's Shadow Education Secretary Kate Green said: "Over the last decade the Conservatives have overseen record numbers of children being pushed into poverty, a worsening mental health crisis and an 18-month gap in learning between disadvantaged children and their peers at GCSE."
A Department for Education spokeswoman said: "We know that children and families have faced unprecedented challenges during the pandemic.
"We've expanded frontline charity support and provided new resources for schools and teachers to support children and young people's mental health.
"Our £1.7bn investment in recovery support will help tackle the impact of any lost learning and we are investing an additional £79m to increase the number of mental health support teams working with schools and colleges."