Universities told not to swamp courses with students
By Sean Coughlan
BBC News family and education correspondent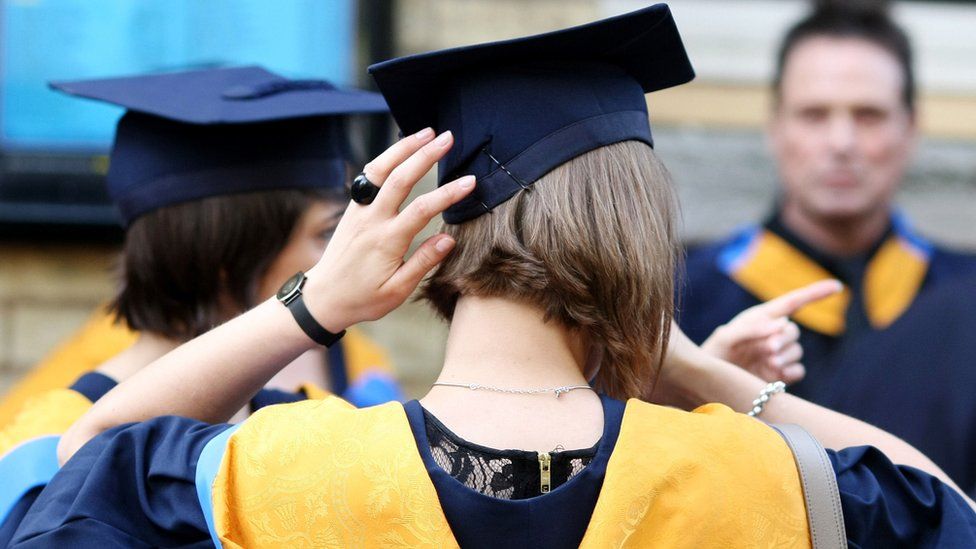 Universities in England are being warned against admitting too many students and swamping courses with "inflated" numbers this year.
The Office for Students (OfS) has told universities not to "sacrifice quality" by "over-recruiting" students.
There is uncertainty about how many students might get good A-level grades, with teachers' grades being used for exams cancelled in the pandemic.
Universities UK said admissions decisions would be "fair and flexible".
Nick Hillman of the Higher Education Policy Institute (Hepi) said "rather than beating up on universities", there should be an acceptance of an "unstoppable" rising demand for university places this year - and that capacity should be expanded.
As well as the possibility of higher A-level results from teachers' grades, there has been an 8% increase in university applications this year - raising the prospect of a surge of well-qualified students looking for places.
The OfS has warned universities against accepting too many, which could leave students facing "further disappointment because the quality of their course is reduced by over-recruitment and poor organisation".
Head teachers have raised concerns that pushy parents - with "pointy elbows and lawyer friends" - will try to pressure teachers into boosting their children's grades for university places.
And the OfS has cautioned that an increase in pupils with top A-level grades should not lead to universities cherry picking high-flying applicants in a way that is socially exclusive.
"Universities and colleges are likely to have many well-qualified students to choose from," said OfS chief executive Nicola Dandridge.
"We can't have a situation where talented students from disadvantaged backgrounds lose out as a result."
Predicted grade guarantees
The university watchdog also highlighted a form of "unconditional offer" being used this year.
It warned that universities had promised "large numbers" of places on the basis of teachers' predicted grades - and if predicted grades were high enough that would guarantee a place, regardless of the outcome of exams.
"We will be investigating these instances further and have powers to impose fines where our rules have been breached," says the OfS.
This year will see teachers both deciding A-level predictions for university applications and then submitting grades for the results.
Universities will be expected to honour any offers made to students - even if more students get the required grades than expected.
In the confusion of last year's replacement exams, there was a significant increase in high A-level grades - and the Ucas admissions service said it meant the "most selective universities accepting over 12,000 additional students".
"Clearly there is further uncertainty this year, but universities are aware that grade outcomes may be more generous than previous years," said a Ucas spokeswoman.
The think tank report warned of "turf wars" over vocational courses below degree level - and called for more clarity over the roles of higher and further education.
Universities UK said admissions decisions this year would take into account "the disruption students have faced and recognise the disadvantage that different groups of students have experienced".
"University admissions teams have worked incredibly hard throughout the pandemic and they are continuing to pull out all the stops," said a spokeswoman.