Careers and Covid: When the pandemic hit job ambitions
By Sean Coughlan
BBC News family and education correspondent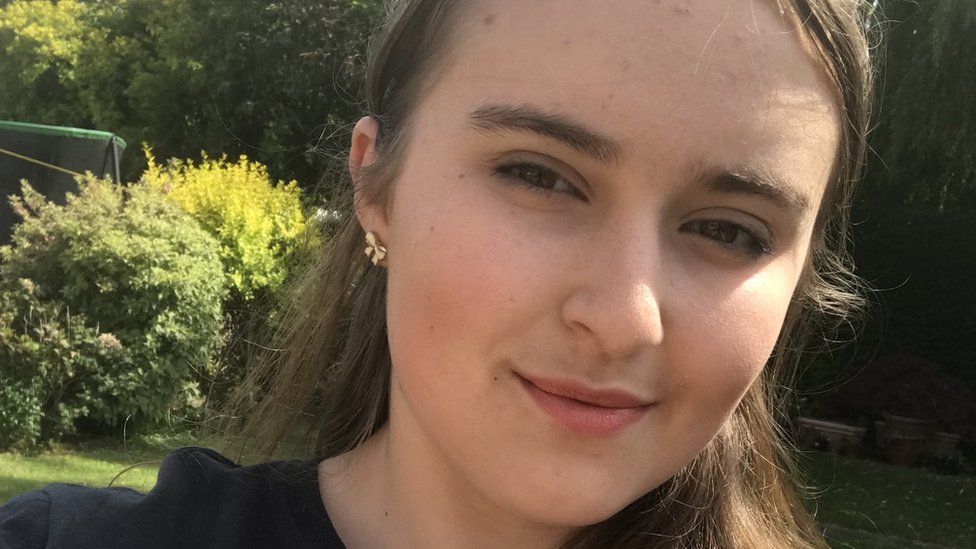 What do you want to do for a job in the future?
Thousands of teenagers were asked about their career ambitions in late 2019 in a survey for an Organisation for Economic Co-operation and Development (OECD) conference on education.
The title of that event - "Where do we go from here?" - now seems rather laden with a sense of unseen icebergs. Because lying ahead was the coronavirus pandemic - and those teenage expectations have faced constant upheaval.
David Spruce told the survey in 2019 he was "fairly confident" he wanted to be an "accountant, or disease or drug researcher", with "banker" as his back-up choice.
But the teenager's last two years at school in Wolverhampton have been disrupted by the pandemic and his A-level exams have been cancelled.
"It was really eerie to witness all the teachers huddled together discussing plans for exams and online teaching," David remembers, at the outset of the first lockdown.
He did voluntary work for the NHS during the pandemic and is now applying to study life sciences at university, with an interest in genetics.
He is weighing up the idea of teaching or research. But he says: "Currently I am unsure of what specific job I want."
Emma Bailey, who was 17 when filling in the careers survey, was "completely certain" about wanting to get a job in motorsports. But there have already been some sharp gear changes.
Instead of going to university to study mechanical engineering as she planned, she is taking a race technicians course at the National College for Motorsport, based in Silverstone.
The restrictions caused by Covid have changed the training, and put much of the teaching online.
"However, I am loving what I am doing now and I am happy with how it's turned out," says the Leicestershire teenager.
But what makes people decide what they want to do? How much is the dice already loaded?
The survey was conducted by the Education and Employers careers charity - and this week the organisation published research showing how ideas about jobs are already firmly shaped at a young age.
The report, Starting Early, says by the age of seven many of the preconceptions and stereotypes about future careers are already in place - driven by factors such as social background and gender.
When researchers asked primary school children about career expectations, they found many more boys wanting to be engineers and girls wanting to be vets - a pattern that plays out into adulthood.
Seven-year-old girls from disadvantaged families were sketching out futures as hairdressers or shop workers, while their more affluent classmates were expecting to become architects and vets.
The Education and Employers research has shown how limited career expectations can be in practice - often directly shaped by the role models of the families around them, or the narrow range of jobs depicted on television and in the media.
This puts even more pressure on young people to be flexible - and raises the importance of careers advice to show what's available.
For instance, City and Guilds this week launched training courses in three sectors which are recruiting staff - social care, construction and digital skills.
Karen Giles, head teacher at Barham primary school in Wembley, north-west London, says when it comes to the "post-Covid recovery" in education, this should include "challenging stereotypes" about careers.
This requires an early intervention, suggests the Education and Employers research - with the careers charity working with the National Association of Head Teachers (NAHT) on the "Primary Futures" project, which brings visitors into schools to talk about their jobs.
It's based on the principle that "If you can't see it, you can't be it" - telling young children first-hand about career options they might otherwise have never heard about.
Paul Whiteman, the NAHT's general secretary, says such horizon-raising careers lessons can help to tackle the "problem of raising post-pandemic aspirations".
Chief executive of Education and Employers, Nick Chambers, argues children are more motivated to learn if they can see a direct link to a job that really interests them.
But there are some job choices that are harder to resolve, with or without the pandemic.
Another of the teenagers in the survey is still caught between two very different ambitions - whether to train to be a professional wrestler or a dental nurse - both painful decisions in their own way.