Surgery in the womb: 'I've done the best for her'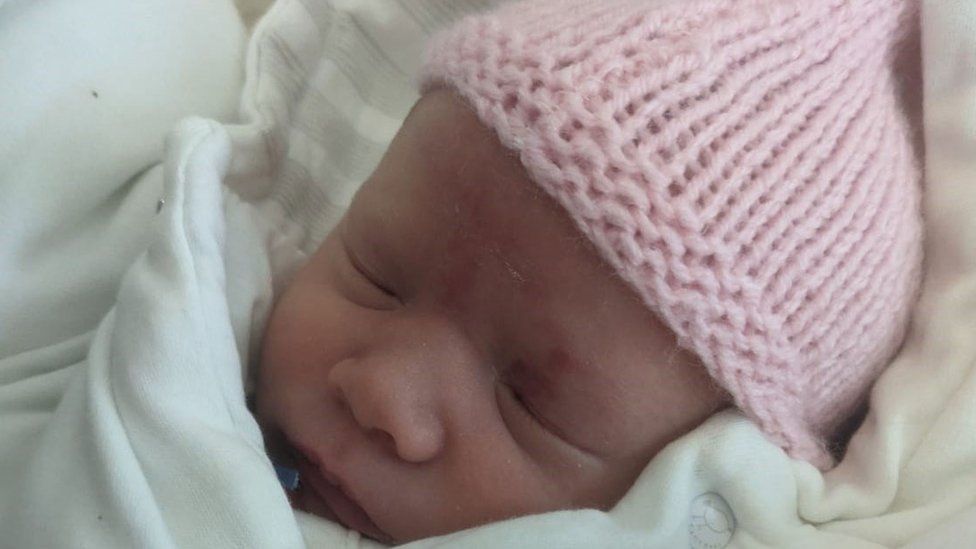 "It comes with risks, but then this operation will mean I've done the best for her. In my mind there was no choice - I just had to do it."
After six failed rounds of IVF, Helena had almost given up hope of having a second baby. But on her seventh attempt she became pregnant and things seemed to progress well until her 20-week scan.
There, Helena was told her daughter had spina bifida.
"It was a very large lesion on her back and half of her spine was exposed. They said that it was likely she will be paralysed, incontinent and will need a shunt to drain the fluid from her brain later on," Helena recalls.
"I was beside myself when they told me all the possible outcomes for having this condition and I couldn't stop crying.
"They told me the probability of her walking or moving her legs was very, very low - and that was absolutely devastating."
Within days, Helena was referred for tests and told she was eligible for surgery. At 23 weeks pregnant, she travelled to a specialist hospital in Belgium, which works in partnership with the NHS.
A team of around 25 clinicians carried out the complex operation to repair her baby's exposed spinal cord and close the hole in her back.
"I knew if I didn't get the operation the quality of her life would be very different," Helena says.
Prof Anna David, foetal medicine consultant at University College Hospital in London, said: "Previously the baby would have the repair to the defect after birth - but now that we can do the surgery in the womb, the defect is closed a lot earlier so it means there's less damage to the spine.
"That increases the chances of the child being able to walk and have more control over their bladder and bowel."
Helena gave birth to her daughter Mila - short for milagro, or miracle, in Spanish - at University College London Hospital three months after the surgery.
Mila still has some fluid on her brain, but so far she is showing signs of good development.
"She can move her legs," says Helena, "and she's got feeling to her toes so it's absolutely amazing".
"I'm just so grateful to the surgeons who've done this operation because her life would look very different without it."
Spina bifida, which affects about 1,500 pregnancies a year in the UK, prevents the spine and spinal cord developing properly.
It can lead to paralysis, bowel, bladder and kidney problems.
But if surgeons can operate at between 22 and 26 weeks of pregnancy, instead of after birth, it means a much better outcome for the baby.
The procedure involves specialists from University College London Hospitals, Great Ormond Street Hospital for Children and University Hospitals Leuven in Belgium. Thirty-two babies have undergone the procedure since January 2020.
Prof Stephen Powis, medical director for NHS England, said it was just one example of the innovative treatments offered by the NHS.
"As well as fighting a global pandemic, the NHS continues to develop and offer these trail-blazing services and continue to be there for patients."
Kate Steele, chief executive of Shine, which offers advice and support to families affected by spina bifida and hydrocephalus, said: "We hope that every family who might benefit from foetal surgery is given the opportunity to find out whether surgery is right for them, and that they are supported by their local service, as Helena was."
Related Internet Links
The BBC is not responsible for the content of external sites.