A-level results 2021: Top grades reach record high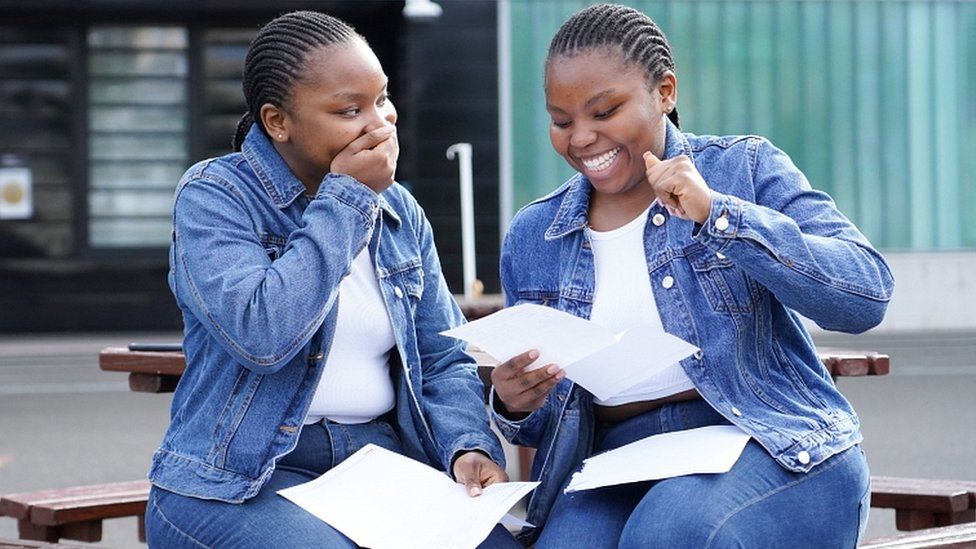 Top grades for A-level results for England, Wales and Northern Ireland have reached a record high - with 44.8% getting A* or A grades.
This second year of replacement results after exams were cancelled, has seen even higher results than last year when 38.5% achieved top grades.
Heads' leader Geoff Barton said it was "comparing apples with oranges" to compare these results with other years.
More than 200,000 students are also getting vocational BTec results.
The sharp rise in top grades at A-level means that the proportion getting top A* and A grades has risen by almost 75% since the last time conventional exams were taken in 2019.
With more top grades and record numbers applying for university, it will put pressure on places for the most competitive universities and courses.
This is likely to be most acute for medicine courses - and students asked to change to another medical school because of a lack of spaces will be offered £10,000 as an incentive.
The Medical Schools Council, representing medical schools across the UK, has launched a "brokerage programme" to match applicants to available spaces, with more people than usual getting the required grades.
Under this scheme for oversubscribed schools, students that need to move medical schools will receive a payment of £10,000 "for the inconvenience".
On Tuesday morning, the admissions service Ucas said a record 396,000 students have been confirmed in their first choice course - up 8% on last year.
Dr Tim Bradshaw, chief executive of the Russell Group of leading universities, warned increases in the top grades meant that some university courses "may not be able to accept students who narrowly missed their offer grades this time."
Simon Lebus, interim chairman of the exams watchdog, Ofqual, said: "We've always said outcomes from this year were likely to be different," said but he assured students they had been "fairly treated" and grades, based on teachers' judgements, could be trusted.
Girls got more top grades, 46.9%, than boys 42.1%
A* and A grades in Northern Ireland, 50.8%, Wales 48.3%, England 44.3%
Independent schools: 70.1% A* and A grades
Comprehensive schools: 39% A* and A grades
London 47.9% A* and A grades, north east of England 39.2%
Exam board officials said the higher grades this year reflected that no one had a "bad day" in an exam and that students had "multiple chances" to show that they could do well.
Schools could use a range of evidence for grades, including "mini-exams", coursework and mock exams - with one in five schools having a sample of their grades checked by exam boards.
During the checking process, exam boards queried submitted grades in 15% of schools and colleges, but only 1% were altered.
National Association of Head Teachers' leader Paul Whiteman rejected warnings of "grade inflation", saying: "The results in 2021 cannot be easily compared to any other year."
The Education Policy Institute said grades had been expected to be much higher overall, but of more concern would be "inconsistencies" at a local level.
Vocational exam results are also being published - and Kirstie Donnelly, of City & Guilds, said young people should "explore all the options open to them", including apprenticeships and degree apprenticeships.
England's Education Secretary, Gavin Williamson, praised students for their work in an "extraordinary and challenging year".
"We should all celebrate their resilience and ability to overcome adversity," he said.
But Labour's shadow education secretary, Kate Green, said the government had not supported young people and "let them down at every turn".
Relief after the most challenging of years
There was an atmosphere of profound relief pervading the entrance hall of Loughborough College.
About 40 students made the trip in person to collect their A-level and BTec results - rather than the 300 who would usually attend, so the Covid pandemic even affected the result-collecting process.
Shivani had been trying to stay as calm as possible before receiving her grades.
In the end it was good news, she got the grades needed to study accountancy and finance at the University of Loughborough.
It's not really sunk in yet but she's pleased - and says it's strange not to have sat exams this year and it might seem more real if she had.
This year has been hard, Shivani says, and although she has tried to be resilient, it has had an impact on her mental and emotional health. She really "missed being around people".
She says remote learning helped her in a way - she lives with her grandmother and her family were very cautious - but she was upset when the exams were cancelled.
"There is still a part of me that thinks, I would feel more deserving if I sat the exams - but I realise it is out of my control."
College principal Jo Maher said it may have been a challenging year, but the students have been amazingly resilient, and that her staff could not have worked harder.
Finn says he in a state of "slight disbelief" that he's done so well, getting the grades to study law at Oxford University.
"Uncertainty has been the overriding aspect of this experience - but I like challenges," he says.
"There is a lot of talk about grade inflation and I appreciate that is a real concern - but ultimately in the circumstances that have prevailed, the alternatives would not have been fair."
Our experts are on hand to answer your questions about this year's results.
In some cases, your question will be published, displaying your name, age and location as you provide it, unless you state otherwise. Your contact details will never be published. Please ensure you have read our terms & conditions and privacy policy.
Use this form to ask your question:
If you are reading this page and cannot see the form, you will need to visit the mobile version of the BBC website to submit your question, or send them via email to YourQuestions@bbc.co.uk. Please include your name, age and location.