A-level textbook withdrawn over 'shocking' Native American question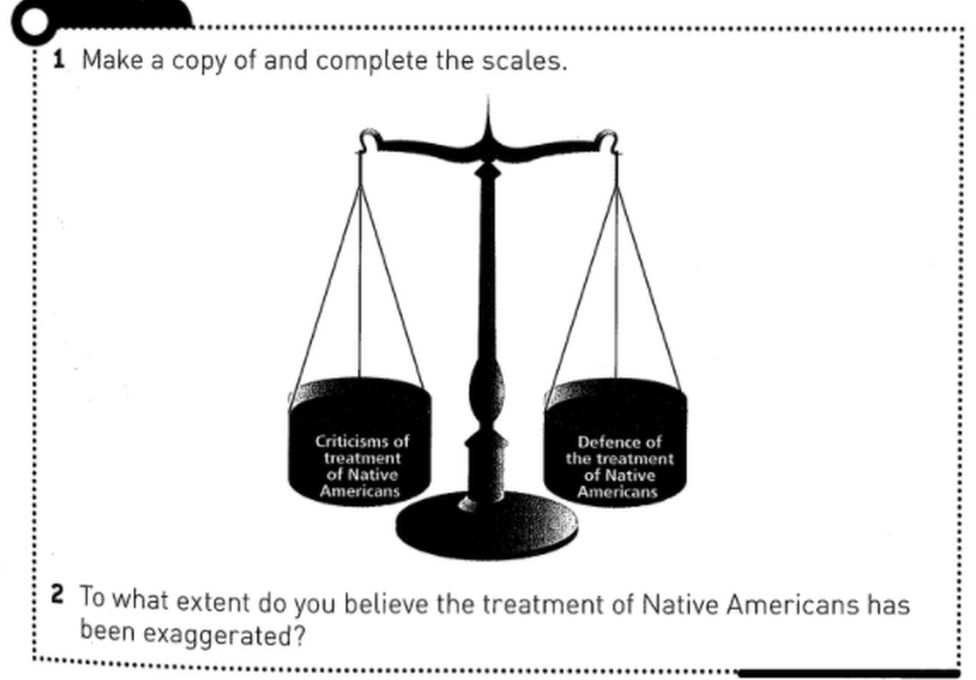 An A-level history textbook has been withdrawn after a youth worker said she was "horrified" to discover an image asking whether the treatment of Native Americans had been exaggerated.
The AQA-approved book asked students to balance "criticisms of treatment of Native Americans" with "defence" of their treatment in the late 1800s.
The period saw some massacres of Native American tribes by the US government.
The publisher Hodder has withdrawn the book.
In one section the textbook - called The Making of a Superpower: USA 1865-1975 - asked students "to what extent do you believe the treatment of Native Americans has been exaggerated?"
Hannah Wilkinson, who offers history mentoring sessions at Durham Sixth Form Centre, said the exercise was "quite problematic".
"It was deeply shocking to see how ingrained racial injustice is," she told the BBC.
"The period we're looking at is a period of American policy where Native Americans were treated terribly," she said.
"The way the textbook framed it suggests that maybe the treatment of Native Americans has been exaggerated."
From the early the 17th Century through to the late 19th Century a series of wars took place between European colonists and Native American tribes. They became known as the American-Indian Wars.
In this time the Native American population fell heavily, partly due to new diseases brought by the Europeans and partly due to wars and massacres. Several historians have accused the colonialists of a "genocide" against Native American tribes.
Whether or not the US government's actions amounted to a genocide, it imposed policies that targeted Native American land, freedom, and wellbeing.
Ms Wilkinson teaches history for students who need extra support as part of her work with St Nicholas Church, Durham.
"My concern is that it presents really oppressive policies in an objective way. That didn't seem appropriate to the historical context," she said.
"I am definitely worried this is a wider pattern. We like to think that compared to America that we don't really have an issue of racial injustice."
She added: "This period goes from slavery, to Jim Crow, to civil rights. If this is how they're presenting the history of Native Americans with such bias my concern is whether that is a repeated pattern in the framing of US history and whether that is coming up throughout the course."
The BBC is not responsible for the content of external sites.
AQA has previously had to apologise for textbooks which contained racial stereotypes.
An AQA spokesperson said the exercise "doesn't match our commitment to equality, diversity and inclusion and should never have made it through our process for approving textbooks".
"We know our approval process wasn't always good enough in the past - but we've improved it since then and we do things differently now, including working with external diversity experts and providing better training for our reviewers and staff.
"We contacted the publisher as soon as we heard about this content, and we're pleased they've worked very quickly to put this right."
AQA said publisher Hodder Education would remove book from sale "and review its content".
"We're also working together with publishers to ensure that new and updated editions of AQA-approved textbooks meet our commitment to EDI (equity, diversity and inclusion)," the exam board said in its response to Ms Wilkinson's original tweet.
"We agree that this content is inappropriate and are going to remove this book from sale," HodderSchools tweeted. "We will conduct a thorough review of the content with subject experts."