Student loan interest rate to hit 12% in England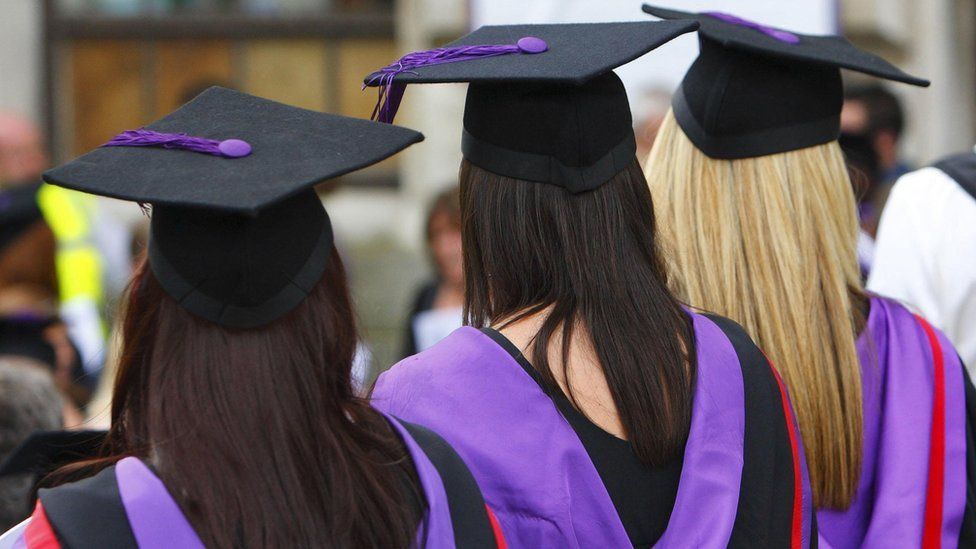 Students and graduates in England will pay up to 12% interest on their loans this autumn, according to the Institute for Fiscal Studies (IFS).
The rate will dip in March 2023, when a cap on the interest will kick in.
The IFS says a rollercoaster of interest rates lies ahead, but the long-term impact on repayments will not be large.
For students starting degree courses from 2023, the rate will be fixed at a lower level.
The interest rate on the loan for those currently at university in England is calculated by adding 3% to the retail price index (RPI) measure of inflation.
This is based on the changes in a range of costs over time, including housing.
Many working towards their degrees don't realise interest is being charged during their studies until they get their first statement the year after leaving university.
After graduation the interest rate is linked to pay, so those earning £27,295 or less are charged RPI, although they do not make repayments until they earn above that amount annually.
Graduates who do earn more each year are charged interest at RPI+3%.
The RPI figure confirmed on Wednesday sets the interest rate for the coming academic year, which means it will leap from 4.5% this year to 12% from September 2022.
This is the highest rate seen since tuition fees for university students in England were raised to £9,000 in 2012.
Hillary Gyebi-Ababio, from the National Union of Students, described the headline figures as "brutal".
She said: "Increasing the maximum interest rate on student loans to 12% will deter thousands of students from going to university, and will cause unparalleled uncertainty for the millions of graduates already repaying their loans, with thousands of pounds added to their debt sheet."
For a very high-earning recent graduate, on more than £49,130 a year, the IFS said it means £3,000 in interest charges on a balance of £50,000 over six months.
A lower-earning graduate will see the interest rate increase from the current 1.5% to 9%.
For a graduate earning below the £27,295 earnings threshold, the six months of higher rates would mean incurring about £2,300 interest.
This latest increase will be a short, sharp spike, because a limit set out in the law covering student loans in England will take effect on March 2023, six months after the increase.
The law says the interest charged on student loans cannot be higher than on unsecured commercial loans that can be taken out on the High Street.
The IFS says on current estimates that means interest is likely to fall back to about 7% in March 2023.
For many this short spike, and other fluctuations between 7% and 9% that may follow in the next couple of years, will not make a big overall difference to how much they repay.
So the IFS says the main risk is it might deter some potential students who don't understand the complex system, or very high-earning graduates who might be tempted to raid their savings to pay off their remaining loan.
It suggests the policy could be tweaked to even out what it described as "wild swings" in the coming years
"The maximum rate will reach an eye-watering level of 12% between September 2022 and February 2023 and a low of around zero between September 2024 and March 2025," the IFS said.
"There is no good economic reason for this. Interest rates on student loans should be low and stable, reflecting the government's own cost of borrowing."
The Department for Education said student loans were protected in a number of ways, unlike commercial loans.
A spokesman added: "Monthly repayments for student loans are linked to income, not to interest rates or the amounts borrowed, and borrowers earning below the relevant repayment threshold make no repayments at all.
"The IFS report makes it clear that changes in interest rates have a limited long-term impact on repayments, and the Office for Budget Responsibility predict that RPI will be below 3% in 2024."
For current students and graduates with post-2012 loans, the balance unpaid will be written off after 30 years out of public funds.
For any students starting their degree course from 2023 in England, the student loan system will be different as a result of the largest changes since 2012.
They will be asked to repay for up to 40 years, a change that will mean the highest-earning will pay less, as they pay off the loan more quickly.
Middle-earning graduates will repay more compared with the current system, and overall it means many graduates paying for longer and repaying more.
But for those in the new system, interest rates will be fixed at the RPI inflation measure only - for both current students and future graduates.