Who is Michelle Donelan and what is the new education secretary facing?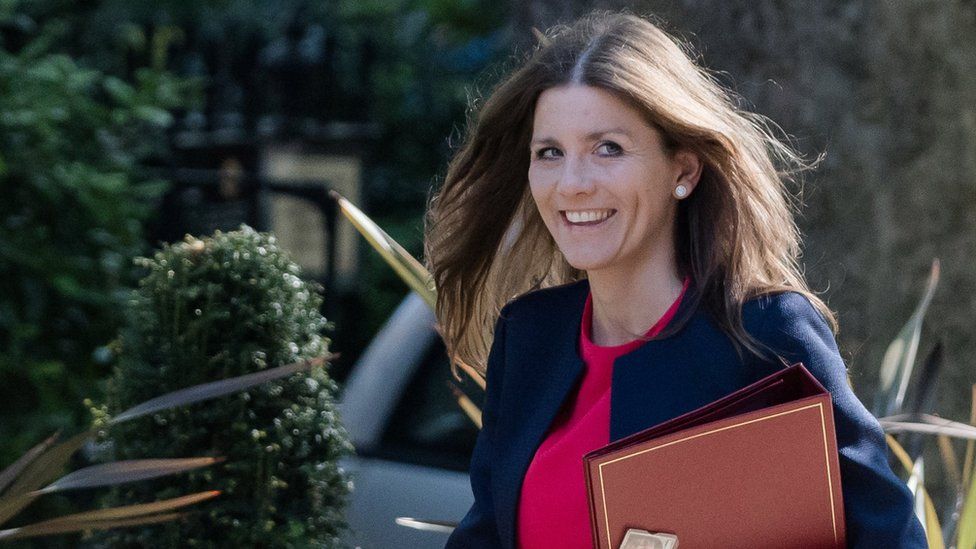 Former higher and further education minister Michelle Donelan has been made the new education secretary.
It follows Nadhim Zahawi's departure from the post as he becomes chancellor.
Ms Donelan, 38, has spent the past two years occupied with universities and colleges.
Now she has the whole of England's education system to contend with - and she is facing a pretty packed schedule.
Perhaps the biggest issue Ms Donelan will have to contend with is the impact of two years of disruption on schoolchildren.
By 2030, ministers want 90% of children leaving primary school to reach the expected standards in reading, writing and maths.
There's a long way to go, and unions aren't convinced it's doable with current levels of funding.
The impact of Covid will also be felt when A-level results come out next month, following the first in-person exams in two years.
We can expect to see grades fall from record highs in 2020 and 2021, when students were given marks based on assessments by their teachers because of the pandemic.
Grade boundaries will be set at a "midpoint" between the 2019 boundaries and the levels used in teacher assessments in 2021.
This will also be the first year of awards for teenagers studying T-levels, the government's flagship technical qualifications. Ms Donelan will have to oversee the successful introduction of more of these courses in the new academic year.
Then there's the issue of costs rising for schools, and the pressure will be on Ms Donelan to ensure that pupils don't lose out as a result.
Caterers have told BBC News that the quality of school meals is under threat because of the price of ingredients, at a time when access to hot food has become even more important for many families.
Ms Donelan could have a teachers' strike on her hands in the autumn if unions aren't happy with the pay rise proposals put forward by the government.
The Conservative Party pledged in its 2019 manifesto to raise teacher starting salaries to £30,000, with delivery of that promised now pushed back by a year to 2024.
Mr Zahawi has also said that he recommended a 5% pay rise over two years for senior teachers when he was education secretary.
Now, as chancellor, he has said he will look at evidence and "we will make a collective decision as a government", but "the important thing is fiscal discipline".
Unions have already called a 5% proposal for experienced teachers "unacceptable".
Ms Donelan will also have to oversee the passage of the Schools Bill, which aims, among other things, to move all schools into academy trusts by 2030.
The government recently removed for rewriting large sections of the bill, after concerns that it would undermine academies' freedom to make their own decisions.
Head teachers welcomed the removal of clauses they said amounted to a "power grab" by the Department for Education.
The draft law includes proposals for local authorities to have a register of children in their area, whether they are learning in school or with parents exercising their legal right to provide an education at home.
This has provoked concern and opposition from many home educators who fear it will lead to disproportionate intervention.
Ms Donelan will no longer have colleagues Will Quince or Robin Walker to help her out with all of this - the children's and schools' ministers quit their respective roles on Wednesday.
But Ms Donelan is well experienced when it comes to higher education, having taken up the post of universities minister in February 2020.
She went to state school in Cheshire and was the first in her family to go to university, studying at the University of York.
The MP for Chippenham has previously said that she saw university as a "springboard", which opened opportunities for her, explaining that this is why she is focused on "quality of outcome" for students.
This year she has already announced:
Plans for students who start university next year to pay off their loans for 40 years after graduating, rather than 30 - but with interest rates cut to match the Retail Price Index
Consultations on proposals for minimum grade requirements to qualify for student loans, and to limit the number of university places in England to tackle "pockets of some poor quality"
Universities already have a legal obligation to do this and have argued a new law is not needed.