School face masks worn in England to avoid Covid row with Scotland - claims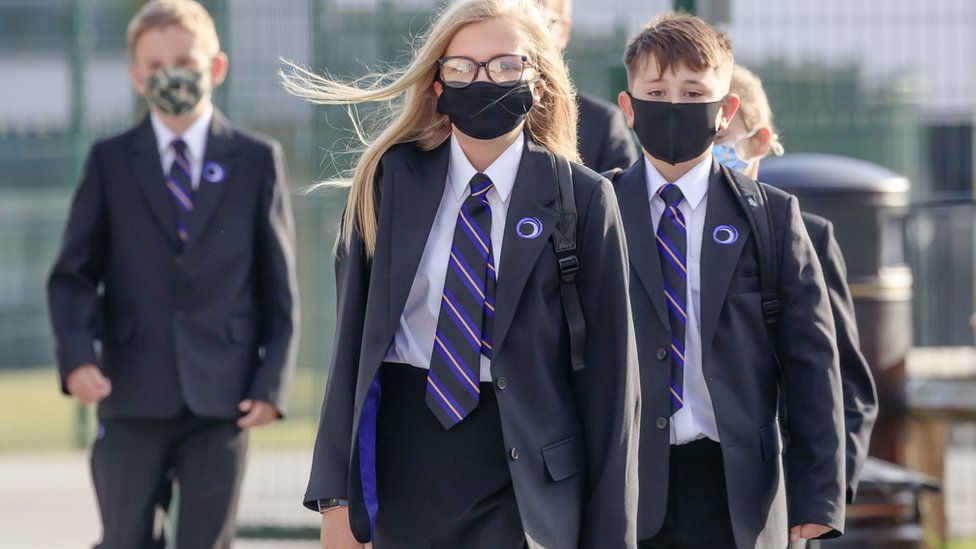 Leaked WhatsApp messages suggest that England's chief medical officer had been ambivalent about the scientific evidence behind the measure.
A government spokesperson said: "We have always said there are lessons to be learnt from the pandemic."
They added: "We are committed to learning from the Covid inquiry's findings, which will play a key role in informing the government's planning and preparations for the future."
Guidance was changed to require face coverings in secondary schools in England in areas which were under local lockdown from September 2020.
The announcement made them mandatory in corridors and communal areas. This later applied to classrooms where distancing was not possible.
The Telegraph reports that former Prime Minister Boris Johnson had asked for advice about face coverings in schools.
In a WhatsApp group chat on the morning of 25 August 2020, he asked whether the government needed to make a "U-turn" on its stance, the paper says.
Lee Cain, then Downing Street's director of communications, is reported to have sent a link to a BBC article announcing face coverings would be mandatory in corridors and communal areas in high schools in Scotland, where the school year starts earlier.
He asked whether it was worth fighting as Scotland had taken the step, the paper says.
According to the leaked messages, Simon Case, who was leading civil service Covid efforts, is said to have warned that "nervous parents would freak out" if Scotland's example was not followed.
Sir Chris Whitty, England's chief medical officer, is reported to have said there was "no strong reason against in corridors etc., and no very strong reasons for", adding that it was "not worth an argument".
The Telegraph story comes after other WhatsApp messages leaked to the newspaper suggested that the former health secretary, Matt Hancock, rejected expert advice on Covid tests for people going into care homes in England at the start of the pandemic - a claim he has disputed.
The BBC has not seen or independently verified the WhatsApp messages nor the context in which they were sent.
The Telegraph has obtained more than 100,000 messages sent between Mr Hancock and other ministers and officials at the height of the pandemic.
The texts were passed to the newspaper by journalist Isabel Oakeshott, who has been critical of lockdowns. Ms Oakeshott was given copies of the texts while helping Mr Hancock write his book, Pandemic Diaries.
A spokesperson for Mr Johnson said it was "not appropriate to comment" on the leaks and that the UK's independent public inquiry into the pandemic "provides the right process for this".