Russia relations prickly, Philip Hammond predicts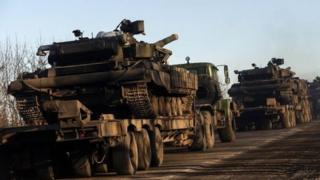 The UK and Russia will continue to have a "prickly relationship" with no clear change in Vladimir Putin's intentions in Ukraine, the foreign secretary says.
Philip Hammond said Moscow had chosen to enter a "strategic competition" with the West rather than being an ally.
He said there had been a "big reduction" in violence in eastern Ukraine since last month's truce was agreed in Minsk.
But he promised further sanctions on Moscow if the situation worsened.
Despite the truce, which requires all foreign troops to leave the region, Mr Hammond told the BBC's Andrew Marr Show he did not "detect that Mr Putin's intentions have changed".
The conflict in the Donetsk and Luhansk regions erupted last April after Russia annexed Ukraine's Crimea peninsula.
'Significant increase'
At least 6,000 people are believed to have been killed.
Both Ukraine and the pro-Russian rebels say they are withdrawing heavy weapons from the combat zone, but there have been continuing reports of fighting.
Russia and Germany have called for an increase in the number of observers monitoring the agreement.
The UK has said it will supply Ukraine with £850,000 worth of non-lethal military equipment, with British personnel also providing advice and training.
Mr Hammond said that if violence increased there would be "a significant increase in economic pressure on Russia from the EU".
He said: "We are not going to fight the Russians in Ukraine and we have been very clear and open about that".
But he added: "It has made the decision that it wants to be in a strategic competition with the West, with Europe. It doesn't any longer see us as partners; it sees us as competitors or even adversaries, and that means that we're going to have a difficult, prickly relationship with Russia probably for some time to come."