Queen's Speech date announced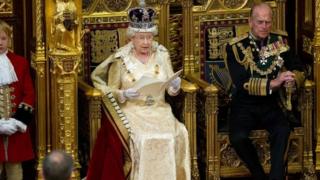 The next government will have up to 19 days to come up with a legislative programme following 7 May's general election, Downing Street has announced.
The Queen's Speech will be held on 27 May, a spokesman said.
MPs will meet a week earlier, on 18 May, to formally take their seats in the Commons and to elect a new Speaker.
The Political and Constitutional Reform Committee recommended MPs should return on 11 May, even if a new government has not been formed.
The polls point to there being no overall winner on 7 May.
If that proves to be the case, as was the situation back in 2010, negotiations will take place between the parties with the aim of forming a government.
The Queen's Speech, on the day of the State Opening of Parliament, is one of the highlights of the parliamentary calendar.
It used to be held in the autumn in non-election years but it was moved to the spring by the coalition government as part of its fixed-term parliaments policy.