Election 2015: Labour defends Sure Start claim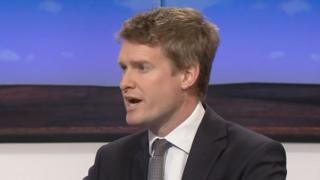 Labour has defended its figures on Sure Start closures after the Conservatives said they were "utter nonsense".
The party claims 1,000 of the early years centres could close if the Conservatives won the election and that 763 have already shut down.
Both figures were contested by the Conservatives, who said Labour was "misleading the public".
Shadow education secretary Tristram Hunt said closures would be needed due to the Conservatives' "extreme" cuts.
Sure Start was set up by the Labour government to give parents of pre-school children under five family and health advice.
'Vast majority'
Speaking on the BBC's Daily Politics, Mr Hunt said the 763 closures figure had been compiled by Freedom of Information Act requests to local authorities.
The government said many of the "closures" were in fact mergers.
"Local authorities know how many Sure Start centres they have in their community...in the vast majority of cases we are seeing closures", he said.
Policy guide: Education
This election issue includes funding for schools, university tuition fees and early years education.
Labour's 1,000 estimate is based on the fact that the Conservatives have not committed to protecting the overall education budget, which includes Sure Start, from cuts.
"Because of the extreme spending cuts by the Conservatives in the future we will see a further thousand," Mr Hunt said.
Conservative Cabinet Office Minister Francis Maude told Mr Hunt: "You should do your research better and you should not mislead the public like this.
'Tough experience'
"The charities who run these Sure Start centres are saying these aren't closures... a lot of these are straightforward mergers."
The centres are "overwhelmingly used" by middle class parents rather than disadvantaged families, he added.
Liberal Democrat spokesman Lord Scriven said: "This is pure Labour hypocrisy.
"Labour-run councils have slashed their Sure Start budgets by nearly 10% - three times more than Liberal Democrat authorities."
Speaking on BBC Radio 4's The World at One, Dr Kitty Stewart, who carried out a study into the two previous governments' records on early years policy, said Sure Start had had a "very tough experience" under the coalition.
Sure Start funding was ring-fenced under Labour, she said, adding that further cuts could be "potentially devastating".
*Subscribe to the BBC Election 2015 newsletter to get a round-up of the day's campaign news sent to your inbox every weekday afternoon.