Election 2015: Lib Dem battle bus draws first blood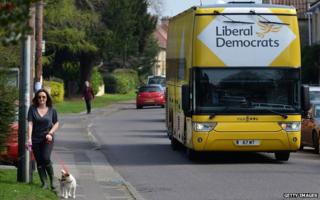 The Liberal Democrat campaign bus arrived in Poole, Dorset, with a bang on Thursday. Unfortunately, it was the sound of the bus rolling over a pigeon.
Journalists on board the coach were quick to break the news on Twitter.
Thoughts quickly turned to whether the incident had been caught on camera:
Inevitably, the puns soon began:
Satirist General Boles imagined what the bus might look like:
The bus eventually pulled into Poole to applause from the Lib Dem faithful:
But questions remained over what happened to the poor bird:
We can but hope the pigeon is the first and last victim in the battle for Westminster.