The unusual battle in Speaker's seat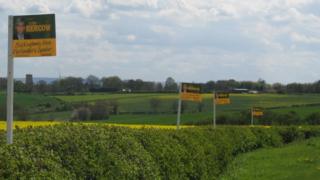 Here is an election poser: where in Britain have more than 75,000 registered voters been told they can play no part in choosing the next British government and prime minister and why aren't they shouting from the rooftops about it?
The answer is the countrified constituency of bucolic Buckingham, deep in Middle England and the safe seat of the Commons Speaker, John Bercow - the only one of 632 seats in Britain where none of the three old major parties is fielding a candidate at the general election on 7 May.
This unique Lib Dem-Labour-Conservative pact is the result of a long-running convention that the neutrality of the Commons Speaker - who must renounce his previous party allegiance on being elected to this prestigious post - should not be challenged by the main parties running a candidate against him at a general election.
It's a convention often honoured as much in the breach as the observance, but it has held solid in recent elections, and means the voters of Buckingham will only have the choice of backing Mr Bercow, or a candidate from UKIP or the Green Party which have both decided to stand anyway.
'Secret' campaign
Last time around, in 2010, the newly-elected Speaker - who had previously been a Conservative MP - faced a high-profile challenge from Nigel Farage.
Now, the UKIP leader has moved on to fight a different seat and most observers predict the Speaker should be a shoo-in for what is a sprawling, relatively prosperous constituency of rolling countryside and picturesque small villages, besides the market town of Buckingham which includes Britain's first independent university.
So how does Mr Speaker fight such an unusual election campaign, without the backing and financial resources of a major political party behind him? I went to find out but, to be honest, I couldn't.
His campaign organiser said: "John is not agreeing to interviews or shadowing requests during this period; he is focused on getting on with his campaign, knocking on doors, and talking about local issues with Buckingham constituency residents."
Mr Bercow does of course have the prospect of a more challenging election to come if he wins next week - that to be re-elected Speaker, which he faces once Parliament reassembles later in May. He has become a controversial figure and many Conservatives hope to block his re-election, a vote which is normally a formality.
But he has also attracted high-profile endorsements from senior politicians for his re-election campaign both in Buckingham and Westminster. The veteran Conservative former cabinet minister, Ken Clarke, writes: "He has proved to be one of the best Speakers of my time in Parliament.... he has won a reputation in Westminster as an excellent constituency MP as well."
Praise and backing come also from several former Labour cabinet ministers, former Lib Dem leader Charles Kennedy, the SNP, Plaid Cymru and Greens, and even UKIP's Douglas Carswell.
That last endorsement won't make the task of Bercow's new UKIP challenger, Dave Fowler, any easier.
A 62-year-old plumber, he has lived all his life in the village of Waddesdon. He was Nigel Farage's agent in 2010 and, while he concedes he is unlikely to beat the sitting MP, he hopes - rather optimistically, perhaps - to top his party leader's 8,400 votes last time, though he lacks resources and supporters on the ground.
Some 7% of the Buckingham population were born outside the UK, compared with a national average of 13%, but Mr Fowler says immigration is a big issue: "In my local area, it is difficult for a one-man band, someone self-employed.
"They have been forgotten largely... they say to me: 'I am a plumber, but I can't get a job on that site because there are European people there, like the Poles.' That has made life very difficult."
---
Commons Speaker
Chairs debates in the Commons Chamber
Chief officer and highest authority of the House
Elected by MPs
Must resign from their party and be politically impartial - even in retirement
Deals with constituency issues like normal MP
During election usually stands unopposed by largest parties
---
And Mr Fowler believes he will attract a lot of disillusioned Conservative voters, fed up that they don't have their own candidate to vote for.
Several people I spoke to at Buckingham's midweek market said that remained a source of great frustration. One critic, 40-year-old actor Adam Borzone, from the hamlet of Owlswick near Princes Risborough, wrote this week to the local paper, The Bucks Herald, to protest.
He explained why: "We are brought up being told that we must vote. But now, as a taxpaying adult for 22 years, I have a vote but very little choice of how to use it because of an "Old Boys' Tradition" which means the Conservatives, Labour and the Lib Dems won't field a candidate in my seat."
And the Green Party candidate, Alan Francis, believes voters should have a choice, though he says he has faced criticism for standing from some voters: "Why should we not stand? We want everyone to have the opportunity to vote Green. We are getting a quite different response this time. We don't have to explain what the Green message is because of the leaders' debates."
'Wretched project'
Both the local Conservatives and Labour are supporting John Bercow and praise his record locally, but how does he handle one of the trickiest challenges: remaining neutral and above the political fray at Westminster, while being free to campaign and speak out in very strong terms on local issues, like the route of the controversial High Speed 2 rail project, which would pass through his constituency?
All three candidates oppose it and Mr Bercow recently called HS2 "a wretched unnecessary project that has no case" in a TV interview.
His role as the neutral Speaker means, ironically, that he can't speak for his constituents in the Commons, or vote. People at a public meeting in the village of Haddenham last week wanted to know how their MP could ensure his high-profile job didn't seriously limit his ability to lobby on issues of local concern.
John Bercow told them his ability to talk to, and potentially influence, government ministers was actually enhanced rather than constrained by the role of Speaker, since this enabled him to call for private meetings with ministers in ways that backbench MPs could not. So the silent Speaker may not be quite so silent after all.
* Subscribe to the BBC Election 2015 newsletter to get a round-up of the day's campaign news sent to your inbox every weekday afternoon.