Election 2015: Deal or no deal? Where the parties stand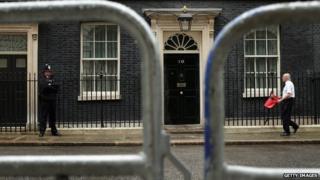 Much has been made about the possibility of no party winning a majority on 7 May.
The parties have said a number of things, some of which are open to interpretation.
Here are some of the main deals they have discussed and the policies that could make or break them.
The options
Formal coalition: This is what happened in the last Parliament, with the Conservatives and Liberal Democrats negotiating their programme for government and sharing ministerial positions
Confidence and supply: A minority government is given support on any votes of confidence and backing for their budget
Vote-by-vote: Based again on a minority government and does exactly what it says on the tin. Parliamentary parties decide on each vote whether they will back the government or not
What the parties say
Conservatives: David Cameron has repeatedly said he wants a Conservative majority government after the election
Labour : Ed Miliband has ruled out a coalition or a confidence and supply deal with the SNP or Plaid Cymru. But a vote-by-vote arrangement appears to still be on the table; Labour's shadow health secretary Andy Burnham said on Friday that "of course" a Labour minority government would talk to other parties.
Senior Labour figures are considering the option of forming a minority coalition with the Liberal Democrats, the BBC has learned - giving them collectively more seats than the Conservatives. Officially, Labour says this is speculation and it is focusing on winning a majority. For their part, the Lib Dems say they will "seek to work in the national interest to provide stable government".
Liberal Democrats: The Lib Dems have based much of their election pitch on being in coalition after the election, saying they would be the Conservatives' heart and Labour's head. But Nick Clegg has ruled out any deal that would mean the SNP or UKIP holding the government "hostage"
SNP: Nicola Sturgeon has said her party will not put the Conservatives in power and has offered to do a deal with Ed Miliband on a number of occasions. She has also said she wants to work with the Greens and Plaid Cymru to build a "progressive alliance"
DUP: The DUP has said it is prepared to work with either the Conservatives or Labour after the election, but not in a formal coalition. It has also ruled out being part of a deal with a government that is "captive to a separatist party"
UKIP: Nigel Farage said earlier this year that his party won't enter a formal coalition. UKIP has said it will not deal with the Labour Party because of its opposition to a referendum on EU membership. But it is prepared to do a deal with the Conservatives and possibly support a Conservative-Lib Dem coalition if its guarantees a referendum on Europe, says Mr Farage
Plaid Cymru: Like the SNP, Plaid has ruled out any deal involving the Conservatives. But leader Leanne Wood has said a deal with Labour is possible
Greens: The Greens have said they won't enter into any formal coalition. The party has also ruled out doing anything that will put the Tories into power
'Red lines'
Conservatives: David Cameron has said he will not do any deal that does not include an EU referendum
Labour: Ed Miliband has said he will only put a "Labour programme and a Labour Queen's Speech" forward after the election
Lib Dems: Nick Clegg has set out four so-called red lines; an extra £8bn funding for the NHS, a £12,500 personal tax-free allowance, increased spending on education and a "stability" budget within the first 50 days of the formation of the next government
SNP: The SNP wants an end to austerity and has said it will seek to influence any Labour government on that issue. Nicola Sturgeon has said the party will never vote for the renewal of Trident
UKIP: Nigel Farage has set out a guaranteed EU referendum as a red line
Plaid Cymru: The party has set out no firm red lines, but will make parity of funding with Scotland, an end to austerity and the scrapping of Trident its priorities
DUP: Nigel Dodds, the party's Westminster leader, has said Labour would have to offer a European referendum in exchange for the support of DUP MPs
Greens: The Greens haven't set out any red lines, but have said ending austerity, Trident renewal and climate change are key issues
Now it's your turn