Twitter Q&A: Philippa Thomas answers your questions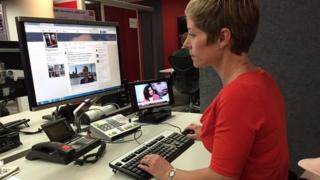 It was an opportunity for those living outside the UK to quiz our BBC World News presenter Philippa Thomas about the UK's general election shortly before voters took to the polls on Thursday 7 May.
You did not disappoint with many of you using the hashtag #AskBBCPhilippa together with #GE2015 on Twitter to find out and clarify the issues you have about the election.
Before joining BBC World News, Philippa was a BBC political correspondent based at Westminster covering events from the fall of Margaret Thatcher to the rise of Tony Blair.
She covered her first UK election for the BBC in 1992 - the last majority victory for a Conservative government. She then reported on New Labour sweeping to power in May 1997 and their majority victories in the following two elections. But, as in 2010, with a single party majority looking unlikely again in this election, the picture will not be as clear-cut.
This is an edited version of the session:
Question from @anilkarkie: Do you imagine a scenario in which the result of #GE2015 doesn't aid @theSNP?
Philippa answers: Hard to imagine. SNP currently has 6 of 59 Scottish seats. All predictions for winning big north of the border.
Question from @damianlebuda14: Is Brexit possible? Will the UK leave the EU under Conservative government?
Philippa answers: #Brexit poss IF Cons victory - ie EU referendum by 2017 - and IF voters want out. Current pols slightly favour staying.
Question from @JBKB2: Which parties are likely to enter into a coalition with Labour?
Philippa answers: One of BIG Qs! Ed Miliband says "no deal" with SNP but informal? Much agenda shared. Centrist Lib Dems cd go either way.
---
---
Question from @sylviesoph: How does a minority govt work? Could Labour govern as a minority govt without relying on the SNP?
Philippa answers: Define "relying"! Either Lab or Con can run minority govt if can get Yes vote on programme & budget. But limits options.
Question from @mirrorlady2: Why are all the media having news blackouts about UKIP?
Philippa answers: Hardly! Mr Farage must be one of the most recognised politicians in the UK!
---
---
Question from @JHayden171: What do Americans need to know about this election?
Philippa answers: What winners say on... Economic outlook. In/out vote on EU? UK to keep indep nuclear deterrent? 0.7% foreign aid budget?
Question from @dluthor2: I'm more concerned about the immigration point. What are their plans for it?
Philippa answers: Most parties wd limit #immigration numbers & benefits avail to EU migrants. UKIP strictest, then Cons, Lab, Lib Dems. SNP pro migrants who "meet Scot's economic needs". Greens wd open up to foreign students. Respect favours C'wealth.
---
---
Question from @DamianLebuda14: What kind of impact might #GE2015 have on economy: more austerity or more borrowing, spending?
Philippa answers: Big diffs. Cons aim to ELIMINATE deficit, Labour cut it year by year, LD in middle. SNP want "modest" spending rises.
Question from @LakoliKaramogo: Is there any indication of "small parties" causing major upsets?
Philippa answers: Small parties COULD become key Westminster players if the vote is as tight as polls show - both Lab and Con about 33%.
Question from @Bridgey1982: Likelihood of a second #GE2015 if no party can secure majority or form a coalition?
---
---
Philippa answers: Quite possible - though not since Feb & Oct '74 - and a possibility the politicians dread. And imagine the cost!
Question from @Fajaranwara: Whom will they first invite to UK after being elected as PM? Modi? Rutte? Obama? Merkel? Harper? Or whom?
Philippa answers: I don't know but the choice of leader first invited is always of symbolic importance - just as we watched to see who #Obama would ask!
Question from @sahilll: Is there a ' None of the above' option available?
Philippa answers: We don't have a #NOTA None Of The Above option -unlike say India, Spain, Ukraine- but more meaningful than staying away?
---
The best of BBC News' Election 2015 specials