Election 2015: 'Work not done' on Tory welfare cuts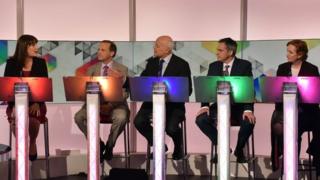 The Conservatives will not say how they will find £12bn in welfare cuts in the next Parliament because they have not yet "done the work on it", Iain Duncan Smith has said.
The work and pensions secretary said details would come after the election.
During a BBC Daily Politics debate on welfare, Labour's Rachel Reeves said her party would consider reducing the overall welfare cap in some areas.
The Lib Dems, UKIP and Greens were also represented on the panel.
The Tories aim to cut £12bn from the welfare budget by 2017-18, but they have not set out where all the cuts will come from.
Earlier this year Mr Duncan Smith said his party "may or may not decide" to give voters more detail on the plans.
Pressed over why he didn't think it was "relevant" to let people know, he told the Daily Politics welfare debate: "Because we'd have to have done the work, that's why, and we'd have to have reached agreement on exactly where those are."
He said of the £12bn: "As soon as we have done the work and had it properly modelled then we will let everybody know what that is."
Mr Duncan Smith also dismissed as "scurrilous" and "cheap" claims that 60 people have taken their own lives since February 2012 because of changes to the benefits system on his watch.
Policy guide: Welfare
This election issue includes access to benefits (apart from pensions), poverty and inequality.
In an angry exchange with Green Party representative Jonathan Batley, the secretary of state said: "You make an allegation like that - you simply cannot stand that up.
"You say that you're a Christian. Be very careful about what you say about people's motivations."
Mr Bartley accused Iain Duncan Smith of a "compassion deficit", alleging that his department had failed to publish a review into the suicides.
Mr Duncan Smith said no such review had been carried out.
For Labour, Ms Reeves said social security spending had not come down despite spending cuts, saying this was down to slow wage growth and increased rents.
She also said her party would commission a review into whether the annual benefits cap - currently £26,000 - could be reduced in parts of the country where housing costs are low.
The Conservatives have pledged to lower the overall cap to £23,000.
Ms Reeves also attacked the so-called bedroom tax, whereby housing benefit payments are reduced for tenants in council and social housing deemed to have spare rooms.
UKIP's Suzanne Evans defended her party's opposition to the policy - which two of its candidates, Douglas Carswell and Mark Reckless, had backed when they were Conservative MPs.
Lib Dem Pensions Minister Steve Webb said he was "proud" of the "sensible welfare reforms" carried out by the coalition government -and defended his party's decision to call for changes to the way the spare room policy was carried out.
Mr Duncan Smith said he believed the government would have faced a legal challenge had it not introduced the measure, because of different rules affecting private and social housing tenants.
To watch the debate, click on the "live coverage" tab on the BBC Election Live page here.
Watch video from the vaults on the BBC News Timeliner
The best of BBC News' Election 2015 specials