Election 2015: Election campaign enters final hours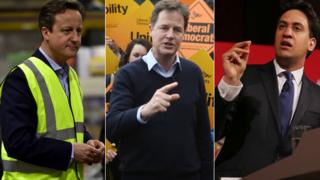 The general election campaign is drawing to a close with party leaders making late bids to break the deadlock in the polls.
Prime Minister David Cameron said the country was "stronger than it was five years ago" but there was "more to do".
Ed Miliband urged people to vote "to reward hard work in our country again" while Nick Clegg said the Lib Dems would offer "stability and decency".
Polls suggest no party will win enough seats for an outright majority.
An ICM survey for the Guardian put the Conservatives and Labour level on 35%.
BBC deputy political editor James Landale said there would be "pretty fundamental questions" on the ballot paper when polls open at 07:00 BST.
He added: "The outcome may be uncertain but the stakes are incredibly high."
On the last day of campaigning:
The main party leaders have been criss-crossing the country in their battle buses as they attempt to drum up support ahead of Thursday's poll.
After starting the day in Mid Wales, Mr Cameron stopped off in the west Midlands before heading to Chester and Lancaster. He is set to end the day by visiting Carlisle and Dumfriesshire, where the party holds its only seat in Scotland.
Meanwhile, Mr Miliband is visiting a succession of Conservative-held marginal seats in Lancashire and west Yorkshire such as Colne Valley, Pendle and Elmet and Rothwell.
Mr Clegg, who set off from Land's End on Tuesday, is heading to John O'Groats through Scottish constituencies his party is hoping to retain such as East Dunbartonshire and Inverness, Nairn, Badenoch and Strathspey.
The prime minister, whose Conservative Party won 307 seats in 2010, has renewed his attack on the possibility of a minority Labour government propped up by the Scottish National Party (SNP), saying it would face "huge questions of credibility".
Mr Cameron insisted a Conservative victory was "within reach" but insisted that he would put "the country first" whatever the outcome of Thursday's poll by working to provide "strong and stable" government.
The Conservative leader said he had achieved a lot since 2010 but was "not satisfied" with current levels of deprivation and educational under-achievement in parts of the country and wanted to push harder on welfare and schools reforms.
"Is our country stronger than it was five years ago? Yes," he told BBC Radio 4's Today. "Is there more to do? Yes. But I would say stick with the team that is turning things around."
Mr Miliband, who is looking to improve on the 258 seats Labour won in 2010 under the leadership of former Prime Minister Gordon Brown, said his party would have more activists on the ground on Thursday helping to get out the vote than the other parties combined.
He warned that another Conservative-led government "propped up by the Lib Dems" would "raid family budgets and cut the NHS".
"This is the clearest choice that has been put before the British public for a generation. Between a Tory government that is for the privileged few and a Labour government that puts working people first."
---
Analysis by BBC political editor Nick Robinson
This is isn't how this election was meant to go.
It's been marked by the lack of confidence felt by our political leaders rooted in the overwhelming lack of trust felt by most voters.
Why else would David Cameron promise to pass a law - not mentioned in his own manifesto - which would stop himself putting up taxes he's long pledged not to raise?
Why else would Ed Miliband resort to "carving in stone" pledges so broad and so general that it would be almost impossible to judge whether they've ever been broken?
Why else would we see the relentless political cross-dressing as the Tories promised to become the party of the workers and Labour the party of economic responsibility?
The two big parties have even been too nervous to follow the classic campaign themes.
---
Labour's deputy leader Harriet Harman said her party could still win what she described as a "watershed election" for the NHS: "I don't think it (the health service) will survive as people want it to survive, and need it to survive, under the Tories."
Mr Clegg, whose Liberal Democrats are battling to keep hold of the 57 seats they won five years ago, is visiting marginal Scottish seats under threat from the SNP, telling voters: "You face the biggest political decision of your life."
He has sought to position his party as keeping any future coalition government "anchored" in the centre ground.
Without the Lib Dems, he said, "Labour or the Conservatives will be left to run a messy and unstable minority government, dependent on the SNP on the one hand or UKIP and the DUP on the other".
The SNP's Nicola Sturgeon, whose party is forecast to take a number of seats from Labour and the Lib Dems in Scotland, said the vote was an "opportunity for us to come together, to unite and link arms as one Scotland and vote SNP to make our voice heard".
---
The best of BBC News' Election 2015 specials