Mole Valley council ward election cancelled after death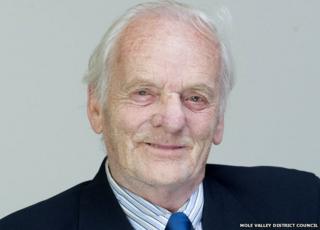 A district council election has been cancelled at the last minute after one of the candidates died.
Liberal Democrat Mick Longhurst, 82, had been due to stand for Mole Valley District Council in Surrey's Holmwoods ward.
Returning officer Yvonne Rees said she was cancelling Thursday's election and will set a new date in due course.
Mr Longhurst, who died on Saturday, had served as a councillor in the ward since 2000.
Voting in the general election will take place as planned.
Ms Rees said: "We will send out poll cards to let people know.
"I am following the protocol set out by law and will announce a new date for the election in the near future."
Other candidates who had also been due to contest the race for two council posts, will not need to be re-nominated.
"There will be an opportunity for other candidates to put their names forward," Ms Rees said.