Thurrock: A stock car race of a campaign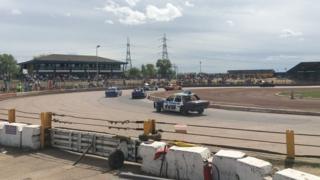 The campaign race on the streets of Thurrock, just like the race on the town's Arena Essex Raceway, is unpredictable and uncertain.
A marginal constituency that used to be held by Labour, it was won by the Conservatives in 2010. This time round, it is going to be a fierce fight to the line that any of three parties could win - with Labour, the Conservatives and UKIP neck-and-neck in the polls.
In the track-side cafe run by Val, Vic and Chantelle, Val says she won't be voting - she doesn't normally.
Vic's mother-in-law has told her to vote Labour. "I'm scared of my mother in law, so probably will," she says.
One of the customers clutching a cup of tea, chimes in: "Tory. Better the devil you know. I've got a business - it's actually looking better now than it has done in 10 years."
Steve Davies has been racing since 1976. Aged 57, he is the current English champion in two-litre stock cars.
"I've had a lot of broken ribs," he says. "I've popped the muscle out of my chest cavity."
Asked about priorities, Mr Davies highlights the National Health Service, which he has used "quite a bit".
He has never voted.
"There is no individual person that I think could actually turn it around to make everyone happy," he says.
Thurrock resident David Frostick has changed his mind in the last 100 days of campaigning.
"I've voted Labour all my life, and I'm not going to any more," he tells the BBC.
"I've been reading some of the manifestos on the computer. I agree with 90% of what UKIP stand for, closely followed by the Conservatives. Labour take a back seat."
This report is part of the Today programme's series covering 100 constituencies ahead of the election. You can find the full series here.
Click here for a full list of candidates standing in Thurrock