Election 2015: I've done my best - Farage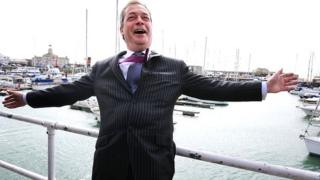 UKIP's Nigel Farage says he has given his "absolute best" to the election campaign - but will be "for the chop" if he fails to win South Thanet.
He said he could not tour the country like David Cameron and Ed Miliband because he did not have a safe seat.
But he would be out door-knocking until polls close on 7 May to ensure voters turned up to polling stations, he said.
Mr Farage said the election experience had turned him into a "full convert" for proportional representation.
Not a 'one man band'
But assessing his own situation, Mr Farage said: "I need to get elected because if I don't, I'm for the chop.
"I've tried as hard as I possibly could. If we don't succeed, at least I will say to myself that I tried my absolute best."
He said the British public had discovered that UKIP was "a lot more than me - it's not a one-man band - it's not a one trick pony".
But the calibre of the debate had convinced him a voting system involving PR is the way forward, he said.
"I'm now a full convert to the idea that what first past the post is giving us in fragmented Britain is a campaign where you keep telling people: 'don't vote for them,' as opposed to 'do vote for me,'" he said.
"I'm now a complete convert that we need an element at least of PR in our politics and then people will say 'vote for me - this is what I stand for.'"
He said his party would become more supportive of a change to the voting system if it wins four million votes but few seats.
And asked what he would do differently in future campaigns, he said: "Have a bigger budget and accept that British politics has now been reduced to such a puerile level that you can't debate serious issues.
"So the way to fight 2020 is to raise millions and millions and just advertise. Forget the media, just advertise."
Mr Farage said he "wouldn't want to be a whinger" but the focus on poor behaviour by UKIP candidates had on occasions made him "feel like I'm the smallest boy in the playground and they're all giving me a good kicking".
Earlier UKIP deputy chairman Paul Nuttall was also asked about Robert Blay, a UKIP candidate suspended after being filmed apparently threatening to shoot a Conservative rival.
He said: "We've suspended him immediately, which is the right thing to do and we do have a history of getting rid of people when they do something wrong very quickly indeed."
Mr Nuttall also criticised media coverage of controversial UKIP candidates, saying many from other parties had also been forced to stand down.
He cited a figure of "319 councillors from all of the other political parties who have either been convicted or stood down", although this figure has been disputed.
Meanwhile UKIP MEP Patrick Flynn said he expected the party to "significantly and perhaps dramatically outperform" expectations on Thursday - suggesting the share of the vote would be more than 10% because support had broadened in the final days of the campaign.
UKIP is attracting around 14% support, according to the latest BBC poll of polls.
The party had two MPs at the end of the last Parliament - both of whom won by-elections after defecting from the Conservatives.
Mr Farage, already an MEP, is standing in the Kent constituency of Thanet South. Here is a full list of the candidates contesting the seat.
---
The best of BBC News' Election 2015 specials