General Election 2015: Tories oust Devon Lib Dems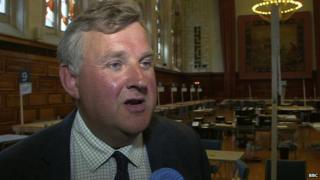 The Liberal Democrats have lost two of their seats in Devon to the Conservatives, who have held all their other seats in the county.
Conservative Peter Heaton-Jones ousted Lib Dem Nick Harvey in North Devon, which had been Lib Dem for 23 years.
Lib Dem Adrian Sanders lost Torbay to Conservative Kevin Foster and Labour's Alison Seabeck lost Plymouth Moor View to Conservative Johnny Mercer.
Labour's Ben Bradshaw held Exeter with an increased majority of 7,000.
In other results:
Mr Bradshaw, an MP since 1997, secured 25,062 votes, beating Conservative Dom Morris, who was second with 17,879 votes.
He thanked the voters who had "put their trust" in him while Mr Morris said Mr Bradshaw had benefited from having a "personal brand".
In North Devon, Mr Heaton-Jones received 22,341 votes beating Mr Harvey, who polled 15,405.
---
Analysis: BBC SW political correspondent Martyn Oates
If you look at the collapse of the Lib Dem vote it's been quite spectacular, with some seats in the South West dropping by almost 30%, but you should also bear in mind the Conservatives haven't only made gains at the expense of the Lib Dems.
In Plymouth, which is traditionally a Conservative/Labour contest, Labour has lost a seat to the Conservatives and the Tories have also held on to a seat Labour thought they were very well placed to gain - that could have something to do with the rise in the UKIP vote in Plymouth.
---
Sir Nick Harvey, who had served as North Devon's MP since 1992, said: "It's part and parcel of politics. Campaigns can be brutal things and they don't always go your way."
He said losing his seat "was a bit easier to deal with" because it appeared to be a reflection of a national trend rather than disapproval of his work personally.
In Plymouth Moor View Mr Mercer secured 16,020 votes, with Ms Seabeck receiving 14,019 votes.
Mr Mercer said of his pledges: "Nothing will change, you can hold me to that."
Ms Seabeck tweeted: "I have been privileged to represent Plymouth Moor View. Saddened to have lost but thank all my friends and colleagues for their support."
In Torbay, Mr Foster secured 19,551 votes, beating Mr Sanders who had 16,265 votes.
Mr Foster said: "To be elected with more than a 3,000 majority is a shock."
Mr Sanders had taken the seat from the Tories in 1997.