Prince William enduring 'sleepless nights' with Princess Charlotte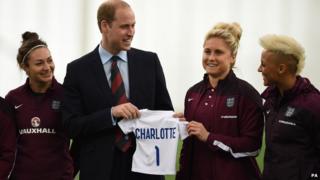 The Duke of Cambridge has told the England women's football team that Princess Charlotte has given him "a few sleepless nights".
The team presented Prince William with a strip for his daughter on Wednesday.
The prince, the Football Association president, met the team at the National Football Centre in Staffordshire.
Captain Steph Houghton said he told them "[Prince] George is very lively, and Princess Charlotte has been keeping him up all night."
She added: "But he said he was just happy to have them both here."
The princess, who is fourth in line to the throne, was born earlier this month at London's St Mary's Hospital.
The Duke of Cambridge, an Aston Villa fan, also joked he might be left having "a bad day" after the FA Cup final on 30 May, when Villa play Arsenal.
As FA president he will be responsible for handing the cup to the winning side's captain.
He said: "It's either going to be a very good day for me, or a very bad day."